We all know and accept that equipment requires maintenance - from regularly scheduled to emergency. The ease with which maintenance can be performed often dictates the consistency of PMs and the down-time implications of break-fix repairs. Enclosure design should plan for all types of maintenance access. There are three main ways enclosure manufacturers can provide easy access for maintenance.
removable access panels
room inside for technicians
removable or liftable roof panels
Access Panels
The best access panels can be specifically located for routine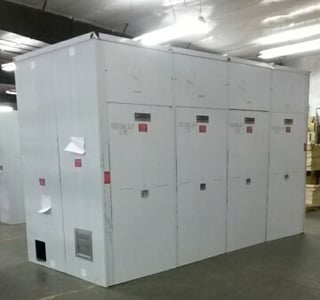 maintenance. They should either be removable or include a hinged door to open them. Some manufacturers can provide panels that can be ganged together for equipment replacement considerations. In fact, the entire length of one or more sides of an equipment enclosure can sometimes be made of removable access panels.
Enclosure Sizing
Enclosure design is typically only based on the size requirements of the equipment inside. Many standard applications, like for backflow preventers, also include uniform space surrounding the equipment for maintenance crews. However, that only leads to a cover that is larger than it needs to be for the majority of the time. The best equipment enclosures provide space for technicians in key locations in combination with doors or panels for easy access.
---
Looking for a custom enclosure solution? We've got you covered.
---
Roof Access
So what if a large portion of the fire pump system, water tank, or air compressor needs to be replaced? You'll need at least a liftable and preferably a removable roof. This is really only an option when it comes to a modular enclosure design. Many types of equipment covers include a fixed roof or are made of molded fiberglass - neither of those options are well suited for large scale maintenance.
Design for the Future
Maintenance teams will live with the consequences of enclosure design for years. Due consideration of these features up front will pay long term dividends. The equipment will likely last longer since PMs will be far more feasible. Further, properly designed enclosures eliminate the complexity and associated training and operational costs related to confined space work. When thinking about routine equipment PM and replacement, a modular enclosure design gives you all the options you need. Consider all your requirements both current and future then ask the enclosure manufacturer to work with you to satisfy these requirements.