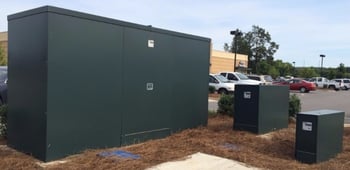 Spring is a time for renewal and rejoicing as the flowers and birds return from their winter migration. It's also a time for recertification, as your local water authority has sent their annual notice to have your backflow preventer tested. The backflow preventer is the most important valve in the water system, as its only purpose is to protect our most precious natural resource. The backflow enclosure is therefore essential to protecting the water supply as well, as its primary job is to protect the valves that protect the water…the water industry version of the circle of life. This spring, as you get your backflow preventers recertified, also think about the renewal and maintenance of your backflow enclosure.
Here are four critical items in and around your enclosure for spring renewal:
Check the Exterior

Inspect the area around the enclosure for landscape debris, plant growth and overhanging limbs that might eventually damage the enclosure. Remove accordingly to keep the enclosure free and clear.
Make sure the doors and openings designed for relief valve discharge are not blocked or hindered from operating correctly. These openings are crucial to properly protecting your backflow preventers, meters, valves and pump systems.

Check the Thermostat

Upon entering the enclosure, first check that the thermostat is working properly. Check the manufacturer's troubleshooting guide to maintain proper thermostat operation.
Make sure the thermostat is set to 40 degrees Fahrenheit to meet ASSE 1060 certifications.

Check the Heating Element

For small diameter installations, make sure the heat trace is still properly installed and no sections are showing exposure or weathering.
For wall-mounted heaters, make sure they are still mounted correctly and have not shorted out due to extensive relief valve discharge.
For slab mounted heaters, make sure the element is free of any debris. Since they are wet/damp certified, you need not worry about water conditions or relief valve discharge.
If your enclosure is installed in a traditionally warm weather climate, and no heating element is currently installed, consider adding a thermostat and heater to your enclosure. 2021 saw freezing conditions in Houston, TX and Miami, FL; anywhere in the United States is susceptible to catastrophic freezing conditions.

Check the Interior

Thoroughly inspect the insulation inside the enclosure. Some manufacturers use stick-on or spray-in insulation that deteriorates and detaches over time. If the insulation is compromised, the enclosure loses effectiveness.
Test the interior for structural damage and general wear and tear. Fiberglass enclosures is easily damaged from wind and weather and will deteriorate over time. If weaknesses have developed, it's time to upgrade to a marine-grade aluminum enclosure.
As spring arrives and we get back outside to enjoy nature's rebirth, we also have traditional chores of reversing water system winterization. Whether your water authority requires the recertification of your backflow preventer or not, you should have your backflow tested each year to ensure your water supply is properly protected. And while you're at it, follow the checklist above to recertify your backflow enclosure as well. Make maintenance of your backflow preventer, and maintenance of your backflow enclosure, your new annual rite of spring.