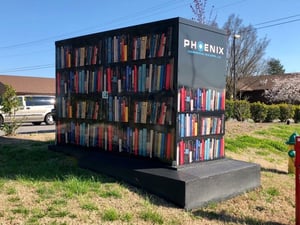 As you know, Safe-T-Cover has a plethora of ways to make our enclosures pleasing to the eye. I personally think the standard brushed aluminum "silver" enclosures look glorious…but as the VP of Sales, my opinion is probably biased. Those with more discerning tastes in enclosures might prefer them in decorative wraps or adorned with attractive landscaping. We also offer our enclosures in a variety of pleasing colors.
Beauty is more than skin deep: Color baked into the aluminum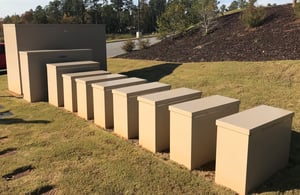 Our colored aluminum enclosures are not painted. There is never a risk of chipping or peeling as the color is actually cooked into the aluminum. We work with Pac-Clad®, the largest manufacturer of metal roofing material in the United States, and they use a highly-technical process with polyvinylidene fluoride to color the aluminum. The coating and method were originally developed for use in abrasive environments but are ideally suited for waterworks, industrial or backflow preventer enclosures. Here is a link to the full list of color options available.
Custom-ordered enclosures meet Columbia County's standards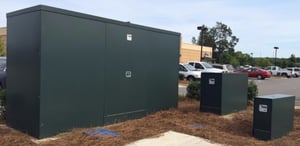 One municipality that enjoys the look of made-to-order colored enclosures is Columbia County, Georgia. Their standard details in the water department require valve enclosures to be green. Scott Daniel, Environmental Compliance Director for Columbia County Utilities says. "We require the enclosures to be green because they really blend in with the landscape. If you're not looking for them, you would never know they were there." He further added that "Being near Augusta, everything is plush and green and having our enclosures match the surroundings makes them more aesthetically pleasing."
So if your taste or need in enclosures does not include our standard silver finish, check out the spectrum of choices that Safe-T-Cover has to offer to match your color palette. Our colored enclosures will stand the test of time and can stand out or blend in, depending on your aesthetic tastes.
Need more information? Head to our custom enclosure page to learn more or request more information.