Aluminum pump enclosures are used for a wide variety of applications with irrigation pump covers being the most common. Safe-T-Cover sees requests for booster pumps, glycol pumps, air conditioning pump systems and many others.

In a previous blog, we described a project on the West Coast near the Pacific Ocean that needed to replace two small irrigation booster pump covers that had deteriorated over time due to the harsh saltwater environment.
In this month's blog, we will discuss a multi-booster pump skid enclosure application that required a uniquely sized access panel to accommodate a large control panel door.
Why Would You Need To Cover A Pump Skid?
The main reason our customers tell us they need a cover for their pumps is protection. In some instances, moving the pumps outside saves valuable space inside the facility for production. Once outside, the pump needs protection from rain, flying debris, vandalism and freezing temperature conditions. When the system goes outside, a pump cover easily provides the needed protection.
They would also prefer to accomplish a couple of additional goals when covering their pumps.
Designing Multi-booster Pump Skid Covers
Recently, we were approached by a customer based in the Great Plains who needed to enclose a multi-booster pump skid. This skid would be mounted to a concrete slab with the enclosure covering the entire pump system and then mounted to that same concrete slab. As mentioned in previous blogs, enclosures are sometimes attached to the actual skid to maintain mobility. In this case, the skid was going to sit in a permanent spot with no intent to move it around.
Providing Easy Access on Pump Enclosures
As with most pump enclosures, the customer needed the equipment to be easily accessible for routine maintenance and replacement, if required. The unique thing about this particular enclosure was the design of the access panels. The control panel used for this pump system had a rather large door that needed to swing out toward the person opening it. Having to allow room for a swinging control panel door is not unusual, but the size of the control panel was a bit larger than most.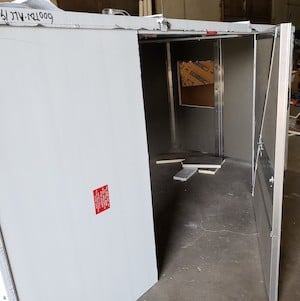 Our mission was to provide an enclosure that would have two access panels swing out toward the person opening the enclosure which would allow for the control panel cover to swing out at the same time providing unobstructed access to the controls. With the help of our in-house engineers, we were able to design two large access panels on either side of the enclosure that pivoted on a stainless steel hinge, swinging open smoothly and then closing and locking nicely in place to secure the equipment inside.
We also provided openings on either end of the enclosure to allow the customer to install their favorite climate control system to keep the pumps and control panels from overheating.
Easy To Work With
This customer was new to our product, so we were happy to take the time to make sure they understood how we design our enclosures, their capabilities and the ease of making modifications to fit the needs of the project. After just a few interactions via email and a couple of conversations over the phone, we were able to provide them the enclosure found in this photo.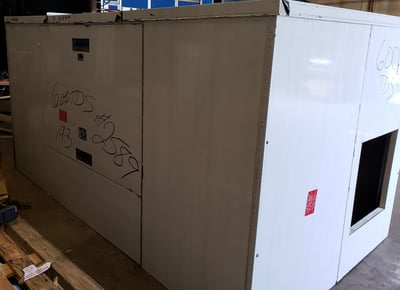 The exterior is made from our standard marine-grade aluminum. The large front access panel has a lockable handle and swings open to keep equipment secure while allowing for complete access to the control panel and equipment. The roof is removable, too. Finally, you'll notice the two openings on either end of the enclosure where we installed the climate control system.
Another Satisfied Pump Cover Customer
Our first communication with the customer was in late May 2019. We received a purchase order for the pump skid cover a few weeks later. The enclosure was manufactured and left our shop on June 20, which is about one month after our first conversation with the customer.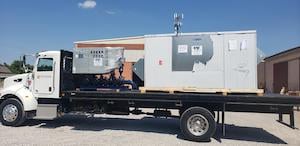 Prompt service is typical of the Safe-T-Cover staff, as we are usually able to provide a custom enclosure quote within a day and ship most custom projects within four weeks of receiving the order. We are proud to have accomplished our client's needs, and we look forward to doing additional business together soon.
A booster pump enclosure offers many advantages. If you like to find out more information about the custom pump enclosures we can create for you, contact me today.