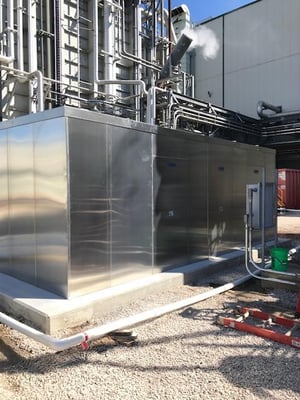 Last year our representatives in Michigan designed and sold a Safe-T-Cover enclosure for an unusual application: an Oil Water Separator. Oil Water Separators (OWS) are traditionally installed below ground or in a subterranean vault, but a new trend to bring the tanks above ground is emerging in the market. Much like backflow preventers and water meters, installing OWS above-grade is much safer and eliminates all of the dangers of confined space applications.
The engineering team at VE Sales, spearheaded by Cindy Zatto, first got involved with the project because of an OWS failure at an industrial plant. Because the OWS needed to be completely replaced, and piping modifications made to the entire system, the application required immediate action and a speedy alternative to traditional methods. The power plant maintenance manager asked Cindy if the below-ground OWS could be replaced with an above-ground model and still be protected from the elements. Cindy informed the design team that a Safe-T-Cover pre-fabricated heated enclosure would protect the OWS from freezing, weather damage, vandal protection and provide ease of service and maintenance.
The entire project spanned one year from concept to completion in order to be coordinated with a total plant shutdown. The overall installation time to remove the buried tank and associated piping, pour the new concrete pad, install the above-ground tank, piping, electrical and Safe-T-Cover enclosure was only two weeks.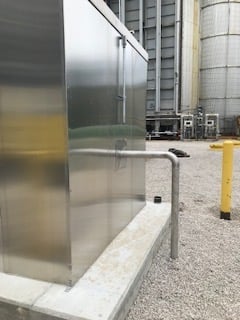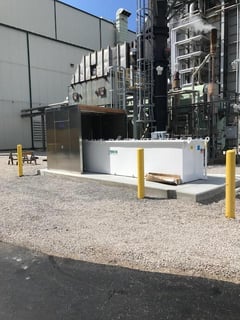 Although most OWS installations are still below-grade, VE Sales has identified a new industrial target for above-ground education. Most of the OWS tank manufacturers already offer above-ground models, but they are usually reserved for application where below-grade is not available. With more education on the cost savings and safety advantages of installing the OWS above-grade, we can make the above-ground tank models the gold standard of the industry.