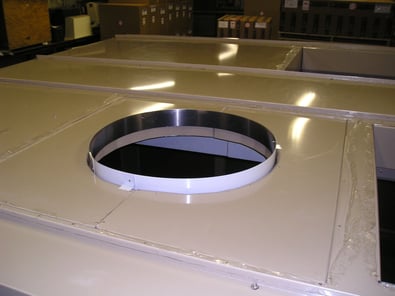 You know that Safe-T-Cover aluminum enclosures are built to last and built to safeguard your waterworks equipment, protecting them from vandalism, accidental damage from landscapers or vehicles, as well as the elements. Our enclosures are also made to support pipe penetrations for pumps and other equipment that need pass-through capability. Whether it's one of our standard designs or a custom enclosure made to your specifications, customizing for pipe penetration is easy and can be accomplished any number of ways.
To guarantee a clean, insulated opening – after all, you bought your enclosure to protect your equipment from weather, why would you make that investment and leave the possibility for gaps? – here are some methods and tips for a true fit as well as added functionality.
Know Your Pipe Penetration Tools
First, like any project, it's important to know what tools you'll need and the method to correctly create the needed penetration. We have another post on precise pipe penetration, feel free to reference that as well.
One advantage to choosing an aluminum enclosure is that the list of tools needed is short and sweet: a handheld jigsaw and a template. No fussing with fiberglass or added, complicated work with structures like pump houses.
Patches for Pipe Penetration Holes
If needed, we also provide patches that can be cut to the size of the pipe, creating a clean, finished look and fitting into the enclosure wall. Here's a video demonstrating how we make pipe penetrations easy and able to be done with minimal hassle.
We Can Help with Pipe Penetration Preparation
The Safe-T-Cover team is fully capable of creating pipe penetrations in your enclosure right here in our Tennessee facility, however, we recommend that these are done out in the field, guaranteeing accurate measurements against your equipment and the best fit the first time around. We also provide instruction to field contractors on cutting and installation, giving you added peace of mind that we're there to help you every step of the way.