Rick Fields's commitment to water quality goes way back. As a college student, he worked for a pipe, valve and fitting supplier. While there, backflow preventers, one of their product categories, captivated his attention.
"They serve a genuine purpose and are there to protect the sanctity of the drinking water system," he said. "What could be more important than that?"
That early interest continues today. He's worked at Zurn for 25 years and now serves as the Director of Fire Protection. The firm provides engineered water solutions for the commercial, municipal and industrial markets.
Backflow preventers (BP) continue to fascinate Fields. He's watched the product improve over the years and now sees a new era of improved connectivity.
Mentors Showed Fields the Way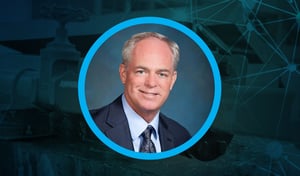 Fields appreciates his mentors who encouraged his early interest in backflow preventers. People like Jim Whitelaw, John Brewer, Pete Chapman, and Bill Dunmire, to name a few, were willing to answer his questions.
"I got hooked on the product," Fields said. "I found out how it was specified, how it functioned and learned about product categories, the specification process and how the codes related."
Jon Everett, technical services manager at Zurn, also profoundly influenced Fields. He described Everett as "the best backflow trainer I've ever seen in my life."
Fields added, "Jon is such a great storyteller and makes the whole educational process real to his students."
Tough Approval Process
If you want to manufacture backflow preventers, you better be patient. Fields said, "The testing protocol is extremely arduous."
In fact, in challenging cases, it may take longer to get a new backflow product approved than a drug through the U.S. Food and Drug Administration, Fields said.
The Foundation for Cross-Connection Control and Hydraulic Research, a Division of the University of Southern California, requires stringent lab testing and then field testing. Each size and product type must be analyzed.
Once all is approved, USC tests production samples to make sure they are identical to the product they tested.
New backflow preventers may be sold to customers only after USC and other agencies grant approval.
Fields noted that the process from product design to market may take three years.
Backflow preventers, considered life safety products, play a key role in the provision of clean water to citizens. If they don't work, dire consequences can result.
From the beginning of his career, Fields recognized the importance of these assemblies. "I realized that these products are far more important than I ever imagined, he said. "I want to work with that."
Future Improvements
What's coming in the years ahead?
Look for "incredible gains" in performance, reliability and material improvements. Now buyers can select from stainless steel bodies and composite check materials.
Backflow preventers typically use a rubber seal to seal off the checks. The relative cost of backflow preventers has dropped significantly over the years because the valves are so much easier to service. Repair kits cost less because the designs are simpler.
Creating backflow preventers out of composite materials is good news for public water system owners… and bad news for thieves.
Most backflow preventers under two inches are made from bronze. Copper, a natural mineral, is a main component of bronze. When the price of copper increased from $2.75 to $3 a pound, BP thefts increased, Fields said.
Wilkins developed a composite body that is extremely durable and withstands pressure. That's good news for the users and bad news for thieves because it has no value to them outside of its intended use.
Housing the device in a backflow protection enclosure also helps.
Obtain Real-Time Data
In addition to improving materials, some backflow preventers are now part of the Internet of Things. According to Jen Clark of IBM, the Internet of Things is the concept of connecting any device (so long as it has an on/off switch) to the Internet and to other connected devices.
Improved connectivity of backflow preventers offers more peace of mind for both public and private water system owners.
Zurn just launched its first Connected Backflow. It features an integral wireless relief valve monitor that provides high hazard protection for portable applications. It transmits real-time relief water discharge data 24/7 via a secure web portal.
If there's a problem, owners will receive immediate text or email alerts. That's good news for managers of facilities where undetected discharges could cause catastrophic flooding and water damage.
Managers of hundreds of facilities will appreciate the Connected Backflow. For example, lights and HVAC may be "smart connected" from corporate headquarters. These managers want the same connectivity with their plumbing systems. After all, flooding results in huge costs.
The new Connected Backflow product allows managers to control the assemblies from one central location, Fields said.
As time goes on, property owners at many levels will seek more instantaneous control of their systems. Besides concerns about protecting water, owners wish to reduce their liability.
Fields explained, "If a property owner installs backflow preventers in accordance with the rules and is in compliance, the individual has mitigated their risk."
What's Ahead in the Next Decade?
Fields believes the industry will be "dramatically different" in the next 10 years. "I think you'll start to see more application-specific backflow preventer systems applications," he said.
He believes a handful of applications will perform differently for irrigation, fire sprinkler and plumbing uses. Check out the diverse demands:
Plumbing systems perform around the clock and are always using water
Irrigation systems work intermittently and aren't used for 98 percent of the time
Fire protection systems aren't used at all unless there's a fire; then the valve should open completely with minimum impact on flow or pressure
In addition, smarter, more connected devices will predict failure and then provide self-diagnostic solutions.
Materials will continue to improve and users will pay more for water, Fields predicted.
Advice for Design Engineers and Water Utilities
Backflow preventers play a key role in protecting water quality, yet they often don't get proper attention unless there's a failure and contamination results.
Fields wishes design engineers knew that 85 percent of the cost of a backflow preventer is its ongoing repair and maintenance, not just the initial cost.
Fields contends that there's a "huge difference" among brands, but design engineers may believe they all are equal because they all have the same approval.
In an ideal world, water utilities would promote comprehensive backflow programs to protect their water supply from the point of treatment to the point of use.
"Our modern plumbing systems are designed from point a to point b," Fields said. "Reversal of flow has dire consequences."
See: "Backflow Prevention Plays Small But Mighty Role in Water Quality."
Protect Water Resource
Many citizens don't realize that backflow preventers play a key role in stopping contaminated water from reaching the public water supply system.
"The community leadership and citizens need to understand how to protect their drinking water," Fields emphasized.
With the advances in backflow preventers, that process will become easier, benefitting public water supply system owners and citizens.
If you'd like to read more about backflow preventer trends, download our guide: "Trends in Backflow Preventer Valve Specification and Location." Inside you'll find information on design risks and regulations that can get in your way.
Leslie Blaize, Certified Professional Services Marketer and owner of Blaize Communications, specializes in writing about the Architecture/Engineering/Construction industry. See www.blaizecommunications.com.