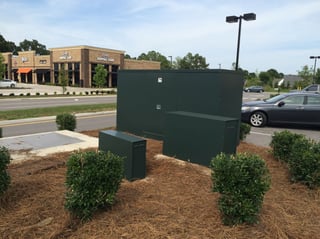 The most common objection we hear about the use of above ground enclosures for backflow preventers is the aesthetics. We get it. No one wants another big, shiny box distracting customers from the appearance of a new building. But the best location for the backflow device is above ground in an ASSE 1060 enclosure. Backflow devices should not be installed in a vault for risk of a cross connection when the vault floods and RPZs shouldn't be installed inside the building where they could potentially cause significant flooding. So what do you do? Well, one of the simplest ways to make an industrial enclosure look nicer is to choose a color during the design process.
What are Your Options?
This may seem obvious. But few designers realize enclosures are available in many colors. On many commercial projects, we've noticed the electrical transformer is green and it looks much more aesthetically pleasing than a shiny aluminum one would look. Notice the green enclosures in the picture above. They are a much better option. The architect and building owner will be more in favor of this look. As far as we know, all manufacturers charge more for a color – other than the brushed aluminum – except Safe-T-Cover. After hearing from hundreds of civil designers, we learned that by offering our standard models in a few common colors at the same base price, we substantially increase the versatility and desirability of our aluminum enclosures. So, in 2015 we began offering our entire line of covers in four standard colors. At the base price, you can choose a backflow preventer cover in Hartford Green, Slate Grey, Sierra Tan or the standard Brushed Aluminum. Our goal is to provide an option which helps blend aluminum shelters into the scenery, whether it's hidden in the greenery or integrated into a desert landscape. Of course, we can ship in most any custom color as well for a nominal fee, but by offering these standard colors, we find that we satisfy most design needs. Below are two colors we offer - Terra Cotta, and Slate Grey.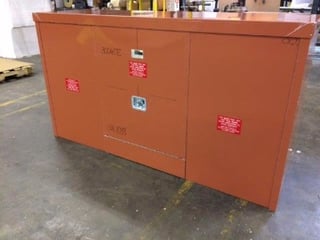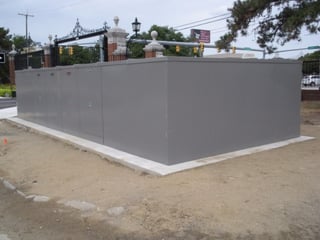 How Does it Work?
A lot of people ask how the enclosure is colored. You'll be pleased to know they are not painted and there is no risk of chipping over the life of the enclosure. We work with Pac-Clad®, the largest manufacturer of metal roofing material in the United States. They apply a pre-finished sheet metal coating of 70% full polyvinylidene flouride to the aluminum. The coating and method were originally developed for use in abrasive environments but are also ideally suited for waterworks, industrial, or backflow preventer enclosures. Here is a link to the full list of color options available.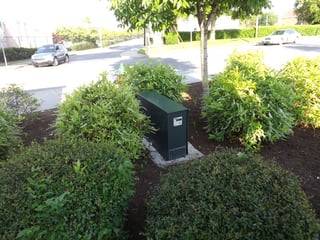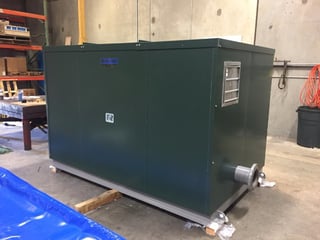 It's easier than ever to keep industrial enclosures out of sight on new projects. We've written more on this topic with more visual examples on our backflow enclosure aesthetics page. Using color is just one of four recommended ways to disguise your aluminum shelters. To hide the enclosure altogether, you can try locating it at the side or behind your building or simply add attractive landscaping around the equipment. One smart solution if you're protecting a backflow preventer is to opt for an N-type valve rather than the traditional inline. That can bring the enclosure's size down as much as 70%. The best part about these solutions is that they only require a little planning and thought. They aren't difficult to enact, and other equipment is often disguised in the exact same ways. We discuss the details of all three of these options on our aesthetics page.