North America is dug into the dog days of summer. While state fairs, backyard cookouts, ball games, camping weekends and road trips are on everyone's mind, this also is the right time to think about your enclosure and the upcoming winter.
No, we don't want winter to arrive any sooner than you do. But it's better to be proactive and preventive with equipment now to avoid any potential problems or failures when the days are shorter and icy January winds cut through your parka.
Your Summertime Winter Checklist
First things first
If you have an aluminum enclosure, detach any removable doors or panels for unobstructed access to your equipment. For ease of access and maintenance alone, this makes an above-ground enclosure a better choice than flood-prone, in-ground vaults.
Check the concrete pad for any deterioration or cracking
Inspect any vents, flaps or pipe penetrations for any deformities or blockages
Inspect the area around your enclosure:
Prune or trim back any tree branches, shrubs or overgrowth
Keep the area around the enclosure clean and clear
Take a look inside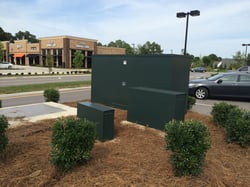 There isn't a need to overthink the inspection process; much of your summer enclosure inspection isn't much more than the eye test. If something doesn't look right, take a few moments to investigate. A quick inspection now will save you hours in cold, even frigid conditions this winter.
If you have a heater, test for proper function and troubleshoot/service as needed
Inspect the insulation for deterioration or weakened adhesive
Test any electrical outlets and, if warranted, have a trained technician service any issues
Clean out any debris or evidence of animals or vandals
Inspect and test your waterworks equipment according to OEM instructions and best practices
***
If you have a Safe-T-Cover aluminum enclosure, we have some good news for you: you don't have to worry about insulation. Our marine grade, ASSE 1060-compliant enclosures provide you with a durable, sustainable solution for your water works enclosure, and our laser-cut insulation is molded to fit your enclosure's dimensions. Peace of mind with your enclosure means peace of mind for your utility equipment.
On the other hand, if you have a fenced, baggie or fiberglass enclosure, now is the right time to inspect your protective equipment and determine if it's time to invest in an industry-leading Safe-T-Cover enclosure. Fiberglass erodes, fences fail and baggies don't protect against the elements. Aftermarket insulation is glued in, and glues and epoxies, with continual seasonal changes, will eventually fail.
Our design experts can work with you to determine a perfect solution. From conventional measurements to custom design and any necessary accessory equipment, we can create an ideal solution for your water works needs. Contact us today for a consultation!