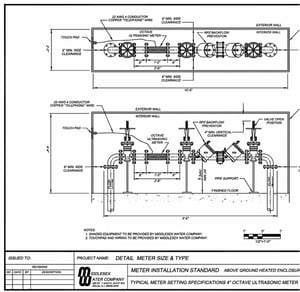 So much effort goes into the design and selection of a piece of equipment. This guide will ensure the equipment cover gets the same effort. Covering a piece of expensive equipment provides the following benefits:
Protection from elements including wind, rain, cold temperatures and warm temperatures
Protection from theft or vandalism
Improved aesthetics, as a covered enclosure looks better than an exposed piece of equipment
Maybe you need to cover a pump, a compressor, a pressure reducing valve, or flow meters. There are a handful of things to consider and this checklist is designed to walk you through all the necessary steps for designing and buying a custom enclosure. It's quick and easy and the whole list is only a few pages long. Check off what you need and take notes as you follow the steps.
You'll find details and instructions for what to do for each of these sections.
Determine the type of protection you need
Measure your equipment and properly size the enclosure
Consider needs related to ongoing maintenance and equipment repair
Think about the extras
Collaborate on the custom enclosure design with manufacturer
Issue the purchase order
This checklist provides an actionable process to follow for the best enclosure design. You may find there are more options than you initially thought, or realize your initial choices are missing something. The custom enclosure design checklist will save you time and help you get exactly what is needed.