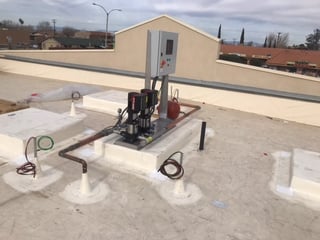 With the cost of floor space on the rise, building owners are moving pumps outside, including to the roof of the building, to utilize every square inch of precious real estate inside. This is logical, however, there are some important factors to consider with outdoor pump covers on a roof top. Installing equipment inside enclosures on the roof requires you to think about more than just the typical outdoor considerations such as inclement weather and theft protection. You'll need to plan for the wind.
Secure Your Pump Cover
Wind can have serious consequences if not handled correctly and is something that may be commonly overlooked during the planning process. For example, we recently received a request to cover a pump skid on the top of a multi-story building on the west coast. Typical winds in this region can reach gusts of 25+ miles per hour at ground level and will increase as you move higher. The last thing any of us want to happen is for the wind to pick up the enclosure that is covering the pump skids and equipment, leaving the equipment at the mercy of the wind and elements. The rogue enclosure could then damage surrounding buildings, or worse yet injure a person. So what do we recommend to keep this from happening? For starters, we recommend our outdoor pump covers be secured to concrete pads using the provided mounting brackets and concrete anchor bolts. These materials have been tested to withstand wind gusts of up to 130 mph.
---
Click here to download the free PDF checklist to designing pump covers.
---
Know Your Roof
Something else you'll want to consider is the roof itself. Building roof tops are typically constructed of a few different types of materials such as metal, or EPDM (rubber roofing membrane). It can also be a built up roofing system that uses multiple layers of materials that are eventually covered with gravel. Obviously most building owners don't want you poking holes in their roof so as not to void its warranty. So how do we suggest mounting an enclosure on a roof top? The best solution is securing the outdoor pump covers to something heavy like a metal skid or a piece of flat steel that will keep everything in its place. We've also seen contractors utilize a concrete slab on top of the roof, although this is less common due to the weight of the concrete. What we don't suggest doing, is anchoring the enclosure to a wooden platform, which we've been asked about on occasion.
Lock it Up
Now that we have the enclosure secured, you'll need to spend some time thinking about the doors. Obviously, doors are needed to provide access to the pumps and control panels for maintenance throughout the year. So how do we keep the doors secured during high winds and bad weather? One option that is commonly used in this situation is hinges. Hinges can be placed along the doors to keep them in place while pumps and equipment are being worked on. They also keep them secured to the enclosure while in the closed position. Our enclosure doors also have built in foldable t-handles to lock them in place. You may also want to consider installing hasps on the outside of the enclosure doors as an extra precaution in case someone forgets to fully engage the t-handles or you are in a highly wind prone area of the country.
As always, it's best to reach out to us as early as possible in the planning process. That way we can help mitigate potential issues, keep the project on schedule and, most importantly, keep everyone safe.