Chris Nickoloff knows booster pumps and pump enclosures. And he's always looking at the most cost-effective ways of doing things. It's in his blood.
After spending 14 years as an investment consultant at a company in Chicago, he's learned a thing or two about money.
"I was running pension plans and retirement plans for large corporations," he says. Now he's vice president of Safe-T-Cover and sharing his money sense with customers. "We want to provide the most value we can."
Chris says there are lots of ways companies can minimize costs by using above-ground pump enclosures that are outside. "I see people waste money on permits, shipping, cranes and damage costs."
Since the 1940s, pump houses have been built with different types of materials to cover their pumps including: pre-fabricated fiberglass, brick and mortar, stainless steel and aluminum.
Hydraulic pumps, water booster pumps, booster pump in a fire-fighting system—any pressure boosting pump needs a pump cover.
Pump Enclosures Don't Always Need a Permit
"There's a need to get away from those older designs. They're not as efficient or cost-effective."
Nickoloff says very large, pre-fabricated fire pump structures often need a permit. It's essentially a small building and can be considered a permanent structure. But because newer designs are portable, they don't need a permit. The sides and the roof can be easily detached at any given time.
"I've seen companies not only pay for the permit, but I've seen them have to pay a third party to handle all of the paperwork," Nickoloff says. "This is why project engineers might want to consider a different design."
Consider Shipping Costs
"From a shipping-efficiency standpoint, shipping less air makes a lot of sense," Nickoloff says. "An enclosure made out of panels, that is shipped flat, takes up less space on a truck, which in turn lowers costs to the end user."
Prefabricated enclosures are constructed in a warehouse and put on a truck. Nickoloff says many companies waste money by shipping "air."
"You're paying for a crate and the space on the truck, but essentially you're just shipping a shell."
Nickoloff also says to consider how to protect the product from getting damaged in route. If it has to travel a long distance, it will most likely be moved between several different trucks. There's a decent chance it will be damaged before it arrives if not packaged properly.
Pump Enclosures Provide Accessibility
Nickoloff says the benefits don't end there. Once they're put together (which takes no time at all), the newer designs allow for much more accessibility.
"Access panels should be situated in front of the control panels on your booster pumps," Nickoloff says. "This makes it easier to maintain and test. Especially if you're using something like emergency pumps for fire sprinkler systems. They typically have to be tested at least weekly."
Some newer designs also come with hinged (and removable) roofs to make it easy to get to your pump. Older designs are far less efficient because when something goes wrong you may need a crane.
"The pre fabs have eye hooks on top and have to be lifted in place by a crane. This can lead to extra costs and logistics." Nickoloff adds.
Lead Times May Also Change
Another advantage for an engineer using a newly designed pump enclosure is lead time. "We can have a custom-made enclosure to the site in three weeks," says Nickoloff. "It can take much longer for a custom pre-fab enclosure to be delivered. Newer designs are simpler and make so much more sense.
"You're saving time and money and getting a great product that's easy to work with," Nickoloff continues.
Now is the time for design engineers to break away from the old way of thinking.
"We find that when we talk to them (engineers) about the accessibility newer designs provide and the minimal lead time, their ears perk up," Nickoloff says.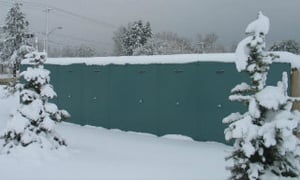 "They can handle snow loads and wind loads like older designs and piping penetrations are more accurate because they're done on site."
They can be heated and if you're worried about aesthetics, newer pump enclosures are easy to wrap and come in a number of different colors. If you want Chris to help you find the perfect pump cover give him a call. Or if you're considering a pump enclosure for your next project, let our checklist be your guide. It will show you "How to Design and Buy a Pump Enclosure." The guide can help you pick out the perfect enclosure for your pump.