Over the last several years municipalities and water purveyors have been evolving their standards for backflow prevention valves on commercial facilities. The evolving guidelines are increasingly conservative - assigning higher risk profiles to applications and requiring reduced pressure zone (RPZ) type backflow prevention assemblies (BPA) for more applications. This is the first consolidated reference we're aware of regarding these Trends in Backflow Preventer Installation. This guide will explore different perspectives and considerations which are important to public water systems, design engineers, property owners, and a surprising number of other professionals.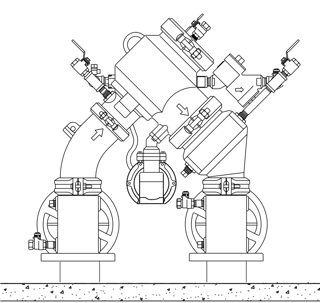 The 15 page illustrated guide covers key topics including:
Water supply safety

Types of backflow

Types of valves

Approaches to backflow management

Design risks

Use cases

Regulations and guidelines

Common installation locations

Liability and risk considerations
This guide is designed for anybody who's specifying, buying, testing or relying on a commercial supply backflow prevention valve. It takes the reader through the changes, background rationale and factors, and the implications to their existing and future projects.
Randy Holland, Safe-T-Cover's expert resource for water authorities and the civil & plumbing engineering community adds "I speak almost weekly with engineering teams at water districts and consulting firms. I'm amazed that as common as these trends are, there's been no common resource. I'm really excited to bring this guide to the community. Between this BPA trends handbook and our program to help water districts create standard design details, we're taking the lead in empowering the professionals that are entrusted with water conservation and safety."