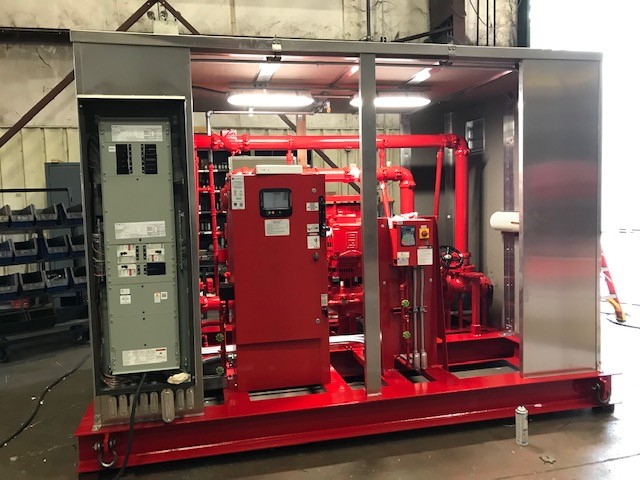 Fire pumps provide needed water pressure for sprinkler systems inside large buildings or warehouses when called upon during an emergency. Booster pumps help make up for any lack of pressure in the local water supply, water tank or other water sources provided and can be located inside or outside of the building.
A common practice is to store the fire pump system inside the primary building, usually in a mechanical room or critical section of the facility. While this does protect the fire pump system from the elements, it makes it difficult for fire marshals and inspectors to access vital equipment when needed. When there's not enough room inside the mechanical room or the retail floor space is too valuable, an alternative may be locating fire pumps outside the primary building in a pump house.
So what other options are available to store fire pump equipment outside of the primary building?
Option one: Pump houses
One option is to store the fire pump system inside a prefabricated building called a pump house, situated near the primary building. Manufacturers of these pump houses promote themselves as a long-term or permanent solution. What they fail to mention is these permanent solutions also require extensive design costs, engineering costs and, most importantly, cost for any required permits. These additional design and permit costs can easily add tens of thousands of dollars to construction costs. Furthermore, a permanent pump house eliminates any future flexibility as the needs of the building owners may change.
Option two: Modular pump enclosures
An alternative to this style of building is a modular panel-designed enclosure. Aluminum paneled enclosures are constructed from individual insulated panels quickly assembled on site and easily disassembled if needed. They are not considered to be a permanent structure, meaning no need for permits. Each panel can easily be swapped out for a door or access panel, allowing for efficient and safe maintenance and repairs for the equipment.
It also means that a single panel can be shipped to replace a damaged one. Many modular enclosures have removable roofs so that the equipment inside can be serviced or replaced. Enclosures can be secured to concrete slabs or portable skids to allow for transport from project site to project site. For aesthetics, they can be ordered in prefabricated or custom colors or even wrapped with custom graphics. Aluminum is very easy to work with and can be customized to meet nearly any specific size requirement.
Of course there are many brands, sizes and layouts of fire pump applications: using a modular design makes it easy to size the enclosure for the equipment's needs. Because it's so easy to work with, aluminum also allows for adding piping penetrations on site and fans, louvers, windows and more can be added. If pricing is helping in your decision between these two options, you may be pleased to learn that paneled enclosures are shipped flat in a box which significantly reduces freight costs and risk to damage from transit.
Protecting fire pump equipment from weather and the elements is a critical feature for any pump enclosure. Enclosures contain sensitive equipment such as control panels and electronics that don't like to get wet or covered in snow. You'll want one capable of standing up to strong winds and rain while also able to handle heavy snow, too.
If you're in the market for a fire pump cover, here's a quick and easy way to find out what you need. Our guide How to Design and Buy a Pump Enclosure will show you how. This checklist will walk you through all the necessary steps. As always, we're here to help with any questions or assistance you may need.