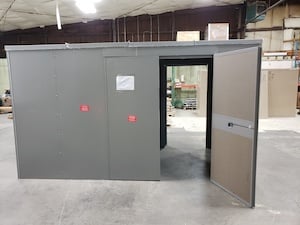 With the cost of floor space on the rise, building owners are moving equipment outside, including to the roof of the building to utilize every square inch of precious real estate inside. This is logical, however, there are some important factors to consider when covering equipment on a rooftop.
Installing equipment inside enclosures on the roof requires you to think about more than just the typical outdoor considerations such as inclement weather and theft protection. You'll need to plan for the wind.
Secure Your Access Panels
Wind can have serious consequences if not handled correctly and is something that may be commonly overlooked during the planning process. For example, we recently received a request to cover a pump skid on the top of a multi-story building on the west coast. Typical winds in this region can reach gusts of 25+ miles per hour at ground level and will increase as you move higher.
Wind can become a problem when dealing with enclosures on top of tall buildings, and we wouldn't want an access panel that was removed (and then set aside while work was being done) to get picked up by a gust of wind and damage neighboring property. Or worse yet, hit someone and hurt them. So in this case, we'd recommend a hinged access panel.
Hinged access panels are a good solution for enclosures that are on top of tall buildings or where high winds can be a factor. They're securely attached to the enclosure itself, so you don't have to worry about them flying off and causing any damage.
Hinged Access Panels
The hinged access panel is manufactured similarly to our standard removable access panel. Hinged panels come with foldable and pad-lockable handles and are also insulated to maintain heat inside the enclosure.
Just like the removable access panels, you can have multiple hinged panels throughout the enclosure. You can even install them higher on the enclosure in case you need to reach hatches on top of filtration tanks or to add or remove material from the outside of the enclosure.
As with the removable access panels, you'll want to consider the size of your hinged access panels to avoid ending up with something that becomes cumbersome to handle and isn't necessary to accomplish the task at hand.
The biggest difference between hinged panels and removable panels is that hinged panels open like a conventional door.
Please watch our short video below that highlights some of these key features. Reach out with any questions by contacting us.