At Safe-T-Cover, we've been designing and manufacturing custom aluminum enclosures for decades. We're not intimidated by odd dimensions, massive footprints or unusual requests. Our veteran team has seen it all.
One of the common questions we hear from prospective customers is fairly basic: How large can a custom enclosure be? We answer that below, as well as some other questions related to designed-to-spec orders.
How large can my custom enclosure be?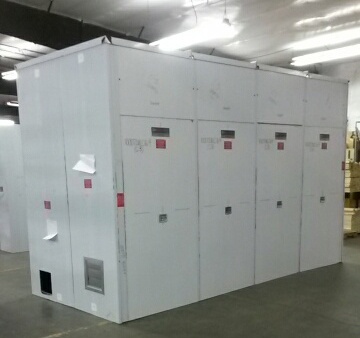 We can build custom enclosures in our Nashville facility up to 15 feet wide by a maximum 12 feet high. As far as length is concerned, since our enclosures are modular, there is no real limit to how long an enclosure could be.
Regardless, our custom enclosures can be developed up to 25% larger than any of our competitors. And when you stack up cost, features, maintenance and durability, there is no real competition.
How many Safe-T-Cover orders are custom?
Custom orders aren't something we do from time to time; at any given time, about one in five of our sales is made up of made-to-order enclosures. This means we're never needing to change operational gears or approach to accommodate a custom request, and we're consistently leveraging our experience with custom work to meet customer needs and constantly innovate new solutions to unique problems.
Can you make adjustments during the planning phase?
Custom orders are rarely a one-quote affair. When working on custom designs with municipalities and engineers, it's not unusual to have to work with alterations to the design plans, which means the quoting process can be a moving target. Some orders take 10 and even 20 quotes before specs are finalized, but all order plans must have client sign-off and authorization before we begin production.
If it means the job is done right and to the exacting standards of our clients, we'll gladly go through the process every time. It's not easy, but nothing worth the effort is.
How long does a custom enclosure order take to manufacture and ship?
In many cases, we can go from initial quote to shipment within five weeks. This isn't just better than our competitors, you also can't do a construction project in that timeframe.
What kind of custom enclosures have you developed?
We've designed custom enclosures for control valves, pump systems, fire protection systems, quench tanks, multiple RPZ backflows, air compression systems, meter systems and more. You can see some of our custom products and case studies here.
How do I get started with a custom enclosure project request?
Contact us with your situation and we'll walk through custom options for you. Or, if you just have questions about whether or not a custom enclosure is what you need, we're happy to lend our experience and expertise to answer them. Click the Schedule Now button below to set up a meeting!