More often than not, water jurisdictions lack the standard details engineers and contractors need to install backflow preventers properly and in the most advantageous way possible.
Some engineers may actively search for details specific to the jurisdiction, while others may not have the time to investigate. After all, time is money, especially when it comes to commercial and industrial development. As a result, engineers default to whatever approach was done before, such as installing backflow preventers in below-grade vaults or inside the building. These installation methods might have worked in the past, but industry experts increasingly advise against below-grade installation due to the numerous health and safety risks they pose to the public and utility technicians. Standards evolve for a reason — to drive greater efficiencies in mechanical performance, financial investments, safety and maintenance management.
In this 2 part series, we're covering the most important considerations to include in the set of standard details for the installation of above-ground backflow preventer enclosures. If your jurisdiction lacks a detailed set of standards that reflect the nuances of modern-day best practices, it's time to create one. We've worked with many jurisdictions across the U.S. and are willing to help others do the same. Contact Safe-T-Cover to discuss above-ground standard details. A set of standard details should address each of the following sections.
Enclosure Placement on the Site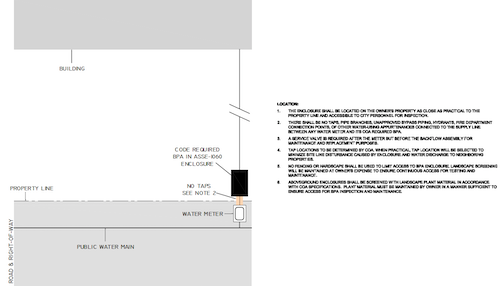 While most water meters are installed in the public right-of-way, backflow preventers are installed inside the property line. Backflow preventers should be installed as close as practical to the meter. In some cases, design teams can apply for an easement grant from the state that permits the installation of the water meter and backflow preventer in a single above-ground enclosure. Document the following in the standard details:
Maximum allowable distance from the curb or right-of-way to the meter (typically 20 feet).
Maximum allowable distance from the curb or right-of-way for the backflow preventer (typically 100 feet).
Water tap location notes suggesting water tap, meter, and backflow should not be placed to obstruct the view of the proposed building or block automotive sightlines.
EXAMPLE NOTE FOR STANDARD DETAILS: ALL BACKFLOW PREVENTION DEVICES SHALL BE INSTALLED IN AN ABOVEGROUND ENCLOSURE, IMMEDIATELY ADJACENT (I.E. AS CLOSE AS PRACTICABLE) TO THE DISCHARGE SIDE OF THE METER.
Backflow Installation
The type of building and its respective hazard level will determine the type of backflow preventer required. Document the following details per hazard-level application:
Approved backflow preventer model - most jurisdictions require USC approved backflow assemblies
Premise isolation - 2 ½" through 12"
Backflow designs - Horizontal and N-pattern
Enclosure type - Specify ASSE 1060
Fire and Domestic Water
A complete set of standard details for above-ground enclosure installations should include the following.
Fire lines - 4" through 12"
Small domestic service - ¾" through 2"
Large domestic service - 2 ½" through 12"
Single or combined service taps
Enclosure Clearance Details
Internal clearances are an important consideration. With removable access panels, the meter or backflow assembly is right in front of the person performing the testing or providing maintenance. The clearances required for a below-grade vault are not needed which keeps the enclosure size much smaller. The standard details should provide the following internal clearances:
Top of the backflow preventer to the roof of the enclosure
Bottom of backflow preventer body or relief valve to the concrete slab
Distance from backflow preventer to the enclosure walls
Length of straight pipe before and after the meter
Note: Some standard detailed drawings will show a different clearance requirement on the side of the backflow preventer that has the test cock versus the opposite side of the backflow preventer. The side that does not have the test cock can be much closer to the enclosure wall.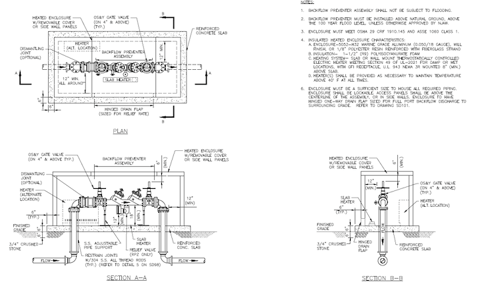 Exterior Clearances
Adequate clearances in and around enclosures are important for routine maintenance and testing. A clearance from the exterior of the enclosure to adjacent landscaping should be noted.
Location of Access Panels
The location of removable access panels will depend on the layout of the backflow preventer and meter. Consider how utility crews prefer to access the meter or backflow preventer. For example, some utility crews prefer to use a boom truck and removable roof panels to gain access from above. Document the following:
Number of removable access panels
Panel location with proximity to equipment
Panel size
Locking mechanism
EXAMPLE NOTES: 1) ENCLOSURE ACCESS PANELS SHOULD BE LOCATED TO ACCESS GATE VALVE HAND WHEELS, METERS, AND BACKFLOW TEST COCKS; 2) ROOF SHOULD BE REMOVABLE FOR EQUIPMENT ACCESS.
Drainage
An enclosure with a backflow preventer must include a water drainage system. If, for example, an event triggers an RPZ backflow preventer to discharge 300 gallons of water per minute, there must be a drain large enough to adequately empty this water. Include a requirement that the enclosure must include a hinged drain flap sized for the maximum relief valve rate.
ADDITIONAL NOTES FOR STANDARD DETAILS: 1. BACKFLOW PREVENTER ASSEMBLY SHALL NOT BE SUBJECT TO FLOODING. 2. BACKFLOW PREVENTER MUST BE INSTALLED ABOVE NATURAL GROUND, ABOVE THE 100 YEAR FLOOD LEVEL, UNLESS OTHERWISE APPROVED BY WATER COMPANY.
Even with a clear set of guidelines, it's important to remember that standard details will vary greatly between jurisdictions. In addition to the information in this blog, be sure to reference state regulations, local guidelines, and product manufacturer recommendations when creating or updating your standard details. Stay tuned for the next part of this two-part series.
For more information on best practices for backflow prevention, download our guide, Best Practices in Backflow Prevention & Protection.