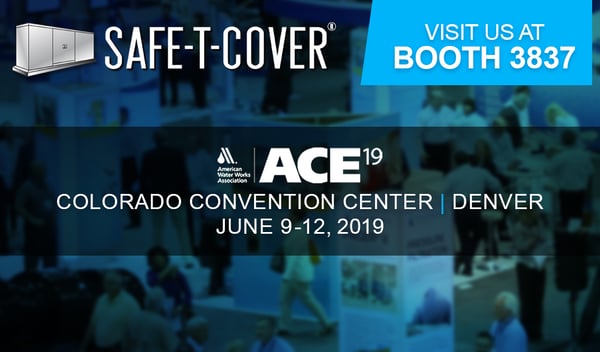 Safe-T-Cover is excited to attend and exhibit at the 2019 AWWA Ace Exhibition in Denver, Colorado. We'll be there discussing the benefits of installing backflow preventers outdoors, in an above-ground backflow enclosure. But that's not all.
Attendees of ACE19 will learn how to solve today's global water challenges, and we're happy to hear that "Innovating the Future of Water" returns as this year's conference theme.
Safe-T-Cover will highlight the latest technologies and water-sector changes as they pertain to backflow enclosures.
Please join us at Booth #3837 as we detail the following information:
Features and benefits of the best-insulated enclosure in the industry. Our standard 1.5-inch (R-9) polyisocyanurate insulation in the walls and 3-inch (R-18) in the roof means our enclosures meet ASSE Standard 1060 Class One for freeze protection.
Examples of standard enclosures for small- and large-diameter backflow preventers. We can cover any equipment size.
Examples of custom enclosures to fit applications of various shapes and sizes. Many times a custom enclosure is the more cost-effective solution.
Informative videos and illustrations detailing best practices in backflow preventer installation and protection.
Detailed information concerning the dangers of below-ground vaults and confined spaces.
Vaults are dangerous for many reasons. We'll be happy to discuss the safest, most cost-effective way to protect your pumps and backflow preventers.
President Craig Carmon, National Sales Manager Cary Wiley, and local sales representatives will be there to discuss the exciting and rapidly growing enclosure industry. We look forward to meeting you there!