"Every drop counts."
This message, promoted by the Madison (Wis.) Water Utility, is one supported by water purveyors throughout the United States. It holds special meaning as we approach Imagine a Day Without Water on Oct. 10 (#ValueWater), a national day of action to raise awareness about the value of water.
Water districts play a key role in protecting the public water supply. Most have taken measures to ensure cross connection control management. Their backflow prevention programs add another layer of safety to protect water quality.
Backflow occurs when water flows back into the public water supply after it has passed through the water meter. When this happens, there is a risk of contamination which can jeopardize clean drinking water.
Water Quality Leaders
Check out these three municipalities that emphasize backflow prevention to enhance their public water safety.
Las Vegas Valley Water Department
Backflow prevention valves must be inspected to make sure they're working. Typically, local governments require yearly inspections. But all too often, inspections aren't performed on a timely basis, raising the possibility of contamination.
But not in Las Vegas. This water district owns all the backflow devices. Its staff performs the maintenance and tests, as needed.
Customers who currently have backflow assemblies and those required by law to install them are assessed a monthly service fee based on the size of the meter. Those funds cover the district's cost to maintain, test and replace backflow prevention devices.
What are the advantages?
Public water customers don't have to worry about paying a large unexpected fee for backflow prevention. And perhaps even more important, the policy, according to a representative from the water authority, has resulted in "a deeper engagement with the public about the importance of backflow prevention."
Move Backflow Devices Above Grade
Las Vegas Valley Water District is working on a large project to retrofit backflow devices that are installed in below-grade vaults. They plan to move all of these devices above grade during the next ten years as they reach the end of their life cycle.
These plans reflect a concern about confined space and accessibility for maintenance. Moving a backflow preventer from a utility vault to an above grade with an enclosure also eliminates a potential cross connection if the vault were to flood from rainwater or flooding.
Community Updates Standard Details for RPZ Backflow Preventers
Roswell, Georgia
Like building a house, protecting a public water supply system starts with a solid foundation. The water purveyors in Roswell, Georgia, recently updated their backflow prevention standard details. They now include new specifications for above-ground reduced pressure zone (RPZ) backflow preventers.
This move is important because engineers need design standards to help them properly design and specify the best devices and methods for the public water system.
Many of the standard details across the country haven't been updated in years. Outdated specifications may not align with the currently recognized best practices endorsed by leading trade groups, such as the American Waterworks Association and the American Society of Plumbing Engineers.
Safe-T-Cover now works with municipalities to improve and expand their library of standard details. This effort follows the firm's survey of more than 1,200 water managers and engineers.
Nearly 75 percent of the respondents agreed or strongly agreed about the need for local standard details for above-ground backflow preventer installation. These guidelines are for commercial and industrial construction projects.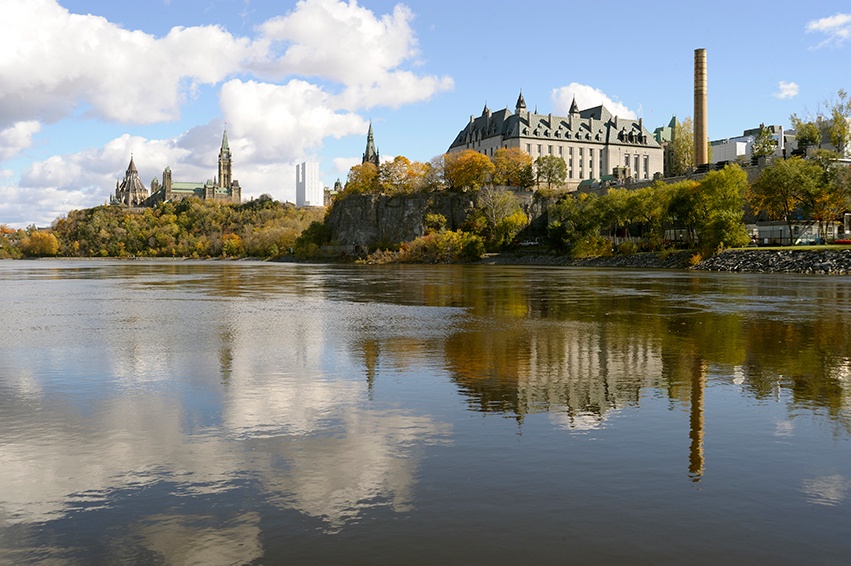 View of the Ottawa River with the Supreme Court of Canada and Parliament Hill. (Photo courtesy of the City of Ottawa
Streamlining to One Device
Ottawa, Canada, also is a leader in backflow prevention.
Its new regulation impacts approximately 15,000 industrial, commercial, institutional and multi-residential properties classified as severe or moderate risk for backflow incidents.
Premise isolation will protect against the highest hazard present for each property. This procedure also simplifies the administration process and lowers the potential costs for the property owner.
Other water purveyors may wish to consider Ottawa's approach for obtaining buy-in for the new regulation.
Officials shared information at two public stakeholder consultation sessions. Then staff followed up with online surveys.
The city also conducted additional meetings to discuss the program requirements and implementation plan with the following:
Building owners and managers
Community housing providers
City of Ottawa internal stakeholders
The Institutional Working Group, a departmental-lead group comprised of representatives from local hospitals, universities and school boards
Staff created a Backflow Prevention Program website and email account (backflow@ottawa.ca) to share additional information and answer stakeholder questions on a continuous basis.
From Water Ban to Good News
Corpus Christi, Texas
After 17 months of enduring four water advisories, Corpus Christi now has news to celebrate. In its recently released annual drinking water quality report, the city announced that its water complied with all parameters set by the U.S. Environmental Protection Agency, according to the Texas Tribune.
Water quality issues began in 2015. Residents were notified of water quality concerns on a few occasions. Then in December 2016, citizens complained of contaminated water. Residents were told to stop using tap water for up to four days.
Because of the water ban, schools closed, businesses suffered from disruptions, and shoppers stocked up on bottled water. Many worried that the bad news would impact tourism.
As a result of the contamination, two businesses in the area have been subject to lawsuits related to the contamination.
It's not clear how the contamination occurred, but the city is taking steps to improve the quality of its public water system.
Backflow Prevention Program Updated
Corpus Christi officials are working to address water quality programs. Leaders recognized that backflow testing regulations existed, but they weren't being enforced. At the time of the ban, 39 percent of residential customers and 13 percent of commercial businesses were delinquent regarding backflow prevention.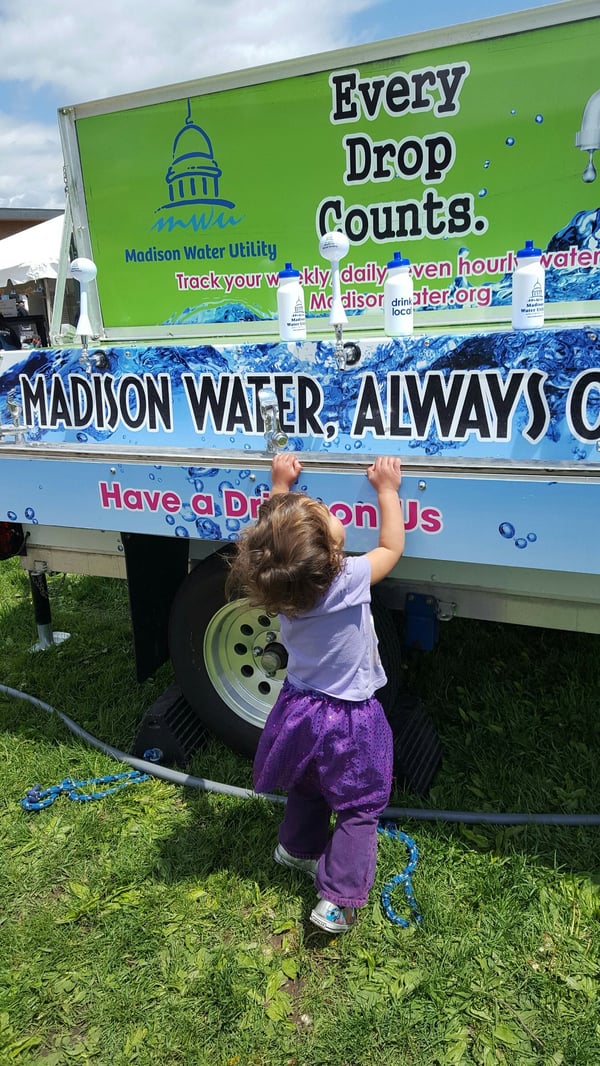 A girl checks out the display at the Madison Water Utility's Water Wagon. The "Every Drop Counts" message helps promote the utility's online conservation program. (Photo courtesy of Madison Water Utility)
The City Council also introduced new requirements for 79 industrial companies located outside of the city limits.
These companies must file annual paperwork showing site plans with infrastructure location and maintenance records. They'll also need to have their backflow preventers tested and show the locations of all backflow prevention devices. An engineer must verify that they've addressed all potential hazards.
The rules were created shortly after the water ban, and the city gave the industrial companies two weeks to comply. One year after the ban, only half of the companies had complied, and the city extended the deadline for the rest of them.
Additionally, the city made changes to the backflow prevention program and is building three new water towers to improve the water pressure. Low pressure can lead to backflow. Installing the water tower should lead to less backflow and better backflow prevention.
Support Backflow Prevention Programs
Water districts and their staff need the support of their customers as well as the local government to do their job and keep our drinking water safe. Water districts must stay up to date on regulations and enforce them. That includes annual testing of backflow preventers and working closely with plumbers and engineers.
When engineers design water systems, they need to know the latest regulations regarding backflow preventers. Their contributions help provide long-term safe drinking water for client communities.
There's growing awareness about the critical role of cross connection control programs. They help protect the water quality of public water systems. Backflow preventers play a key role in this overall effort.
Next Blog:
What's it like to live a day without clean water? Some residents don't have to imagine such an unsettling experience. They know first-hand what it's like to deal with a contaminated public water supply.
Check out our related blog post on Oct. 10: "Some communities don't just imagine a day without water – they've lived it."
We're publishing on this issue to show our support for Imagine a Day Without Water. It's a national day of action to raise awareness about the value of water. #ValueWater
Leslie Blaize, Certified Professional Services Marketer and owner of Blaize Communications, specializes in writing about the Architecture/Engineering/Construction industry. See www.blaizecommunications.com.