Safe-T-Cover specializes in the design and manufacturing of engineered aluminum enclosures that protect valves and pump systems. In addition to providing high-quality products, Safe-T-Cover is also committed to sustainability and social responsibility through its Environmental, Social and Governance (ESG) capacities.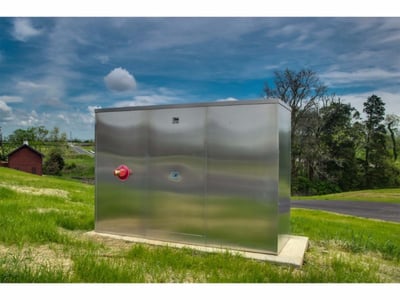 One of the ways that Safe-T-Cover demonstrates its commitment to sustainability is by using domestically sourced aluminum for its enclosure manufacturing. By sourcing aluminum from within the United States, Safe-T-Cover reduces its carbon footprint and supports local business. Additionally, the use of aluminum in its enclosures makes them extremely durable and long-lasting, reducing the need for frequent replacements as well as minimizing waste.
Speaking of waste, Safe-T-Cover also has a zero-waste recycling program. This program ensures that all aluminum scraps and other waste materials are recycled and repurposed, rather than ending up in a landfill. By minimizing waste, Safe-T-Cover is able to reduce its environmental impact and contribute to a more sustainable future.
Another sustainable material that Safe-T-Cover uses is California redwood. This wood is known for its durability, heat dissipation and resistance to decay, making it an excellent choice for outdoor enclosures that need to withstand harsh weather conditions. Safe-T-Cover sources its redwood from sustainably managed forests, ensuring that the quality wood we use in manufacturing total aluminum enclosure solutions is harvested in a responsible and environmentally friendly way.
We've also shared before about the American Water Works Association's Water 2050 initiative, a bold program designed to democratize the water works sector, leveraging academia, technological advances and voices previously not part of the utility infrastructure conversation. By bringing these and more strategic partners to the table, AWWA is committing to solve problems related to the future of water. Safe-T-Cover is proud to stand alongside our partners at the AWWA in these efforts.
In addition to its sustainability efforts, Safe-T-Cover is also involved in social responsibility through its participation in the 4:13 Strong program in Nashville, TN. This program helps men who have struggled with addiction and other challenges build a new life through job training and mentoring. Safe-T-Cover employs several graduates of 4:13 Strong, providing graduates with valuable work experience and helping them start a new, positive chapter of their lives as part of our community.
Safe-T-Cover is fully dedicated to sustainability and social responsibility. Through its use of domestically sourced aluminum, zero-waste recycling program, use of California redwood, and involvement in the 4:13 Strong program here in Nashville, Safe-T-Cover demonstrates its commitment to our community and sustaining our natural resources. By choosing Safe-T-Cover for your equipment enclosure needs, you can be confident that you are supporting a company that values social stewardship.