The best way to landscape around a backflow enclosure is to ensure that you're concealing it from view without inhibiting the person who will test your backflow prevention assembly each year.
Landscaping is one of the most popular ways building owners disguise backflow enclosures. You have many options to choose from, like bushes, trees, or tall grasses, just to name a few. It's a cost-effective way to camouflage your backflow enclosure, but there are some things you should consider. In fact, local zoning laws may require that enclosures be screened by landscaping, etc. As such, Design Professionals or Certified Installers; i.e., Master Plumbers, should check local requirements prior to installing backflow prevention assemblies.
Angela Hefner is the Compliance Specialist for the Department of Water Resources in Lynchburg, Virginia. Her job is to keep tabs on over 3,200 backflow prevention assemblies for the city. Lynchburg strives to be up-to-date with the best practices and procedures associated with backflow prevention assemblies, and (through trial and error) have come up with a good way to approach any landscape design project that involves a backflow enclosure.
The Beginning of Backflow Enclosures in Lynchburg
In Lynchburg, Virginia; any RP required for a project, shall be installed above ground and in a backflow enclosure, excepting only those irrigation assemblies which are winterized. Over the years, water department officials realized that installing backflow prevention assemblies in utility vaults was not the best idea.
"Vaults flood. Rainwater fills them to a level that covers the test cocks and creates the risk of a cross-connection," Hefner says. "There's also no safe entry, which makes it dangerous for testers."
So, in 2008 it was decided that backflow prevention assemblies being installed in Lynchburg would be RP's - installed outside, above ground, in a heated backflow enclosure.
Early Discussions Are Critical
Hefner says that one of the biggest reservations building owners have about installing their backflow prevention assemblies above ground is that they're afraid the backflow enclosure is going to be an eyesore. But a good landscaping idea can keep the enclosure hidden, even if it's in the front yard. And it starts with a discussion.
"If the design engineer talks to the water purveyor and looks at all of the site features that come into play, like parking lots, traffic islands, or city streets," Hefner says. "That's a good start. But the design engineer should also talk to a landscape architect about ways to disguise the backflow enclosure."
Backflow Enclosures Need Clearance
Hefner says that having these discussions early on makes the whole process much simpler, especially when it comes to meeting the required allowances tied to backflow prevention assemblies, their required enclosures, and landscaping in Lynchburg.
"In order to provide enough space around the backflow prevention assembly when it is being tested," Hefner says, "We came up with the distances which should be around each RP, to include the landscape design and the backflow enclosure."
Details in the City of Lynchburg's Manual of Specifications call for the following clearances around each assembly:
Two feet in front of the outermost edge of the RP and two feet behind
Bushes, trees, flowers, etc. should have sufficient space placed between them and the enclosure in order to maintain the required allowances.
These allowances were settled upon after two things happened. Guidance from the International Plumbing Code indicated that sufficient space was needed to allow for cleaning, testing, maintenance, and replacement of backflow prevention assemblies. Discussions were then had with Master Plumbers and State Certified Backflow Prevention Device Workers in the field.
"We were finding out that many of them were getting cut by branches, or just couldn't get inside the enclosure," Hefner says. "Sometimes the building owner would end up with a damaged enclosure before the testing was completed."
Think About Your Landscape Design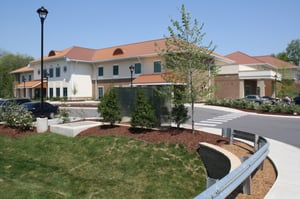 That's why Hefner says that it's always important to think about your landscape design when it comes to backflow prevention assemblies and their related enclosures. Consider the type of bushes being planted - they may be small now, but the
y will get bigger - and remember to keep them trimmed, in order to maintain the desired size.
This is why Hefner and her team seek to have the following text added to site plans when backflow prevention needs to be addressed: Landscaping and/or other site features shall not be such that they impact the required allowances for any RP (or RPDA) for backflow now or in the future."
In the end, Hefner can't stress enough how important it is for the design engineer to talk to the water purveyor and hopefully, a landscape architect to design the perfect project. "Being proactive and working with the design engineer ahead of time will allow you to think things through," Hefner says. "And it may even save you money in the long run."
If you'd like more information on why installing backflow preventers above ground and in an enclosure are the most cost-effective and safest ways to go about your next project, check out our page "Think Outside the Vault." project.
And for more design ideas and ways to disguise your backflow enclosures, check out our guide: "Five Ways To Improve Your View." In addition to landscaping, you'll find out how color and wraps can work wonders for aesthetics.