The safest, most cost-effective way to protect your backflow preventer is to install it outside and above ground and cover it with a backflow enclosure. But if you're concerned about your enclosure sticking out like a sore thumb, all you need is a vinyl wrap to disguise it.
Look around and you'll see vinyl wraps on lots of things, especially cars and trucks. People started out using them to advertise their businesses, but now it's evolved. The wrapping is so good that you can now pass on a paint job and choose more desirable solid colors to wrap around your car. In addition to vehicle wraps, you can use a vinyl wrap on walls, floors, decals, and now backflow enclosures.
Want to know why you should never install a backflow preventer in a utility vault?
About 20 years ago, new technologies emerged. This led to better quality graphics and made covering your backflow enclosure with a vinyl wrap much more affordable. Enclosures no longer look like plain aluminum boxes but instead contribute to the visual appeal of your building and surrounding area. Let's look at some of the most creative vinyl wraps we found that are being used to hide backflow enclosures.
Wrapping Your Backflow Enclosure
Each of these backflow enclosures is covered with a vinyl wrap. The first one sits near the front entrance of a grill and fireplace shop. Because of the vinyl wrap, this enclosure not only advertises the store but is more visually appealing than an enclosure without a wrap.
The next backflow enclosure is at the front walk-in entrance of a building. This vinyl wrap is the logo of a hotel chain and ties into the branding on the building.
In the third picture, the wrap looks like a bookshelf. This beautiful enclosure is on the front lawn of a local area library.
In each of these instances, the property owner was creative and used the wrapped enclosure to improve the aesthetics of their building and entrance. They made good use of this surface area to promote their company or service. You can even wrap your enclosure to match the brick of your building. The only thing that can limit you is your imagination.
Here is another good example. This enclosure is on a college campus. Campus leaders decided to use it to highlight a great moment in the school's history.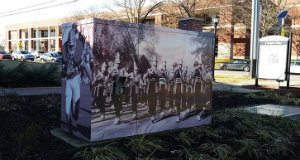 And here's an image showcasing a local artist's work. The thing that stands out the most is the 3D imagery and detail. As we said, you're only limited by your imagination.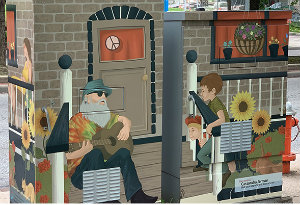 Steps To Vinyl Wrapping
The first step is the design and layout for the surface area of the enclosure. Some companies have a designer on staff to help the building owner with ideas to promote the brand, products or services offered. The designer uses their creative talent to develop a custom concept for you.
When you're happy with the concept, a proof is created for your approval, and then your vinyl wrap goes into production.
Once it's finished, your backflow preventer will need a little prep work before the vinyl wrap can be applied. The surface of your enclosure needs to be free of dirt and grease.
Now that your enclosure is clean, your wrap can go on. A backflow enclosure that's 4 feet wide by 8 feet long by 6 feet tall typically takes a couple of hours to install.
The only real challenge is the weather. Dust and the temperature must be considered. Both can extend the installation time.
The Cost of a Vinyl Wrap For A Backflow Enclosure
Prices vary, but we found wrapping an enclosure that's 4 feet wide by 8 feet long by 6 feet tall for the wrap could cost as little as $800 to $1,200. This includes a warranty on the wrap. Our friend Rich Novia at "The Wrap Lab" compared prices for us.
How Long Does a Vinyl Wrap Last?
The vinyl wrapping materials are made to withstand the impact of the sun but as we all know, the sun is hard on surfaces. A backflow enclosure should still be looking good seven to eight years after the vinyl wrapping is installed.
Use Your Backflow Enclosure To Make Money
Here's an idea that would make sense for many building owners: You sell the space on your backflow enclosure as advertising space, much like a billboard. Many vehicle wraps are intended to promote a company with the purpose of creating more awareness and ultimately more business. There's no reason why an enclosure situated on a busy street couldn't become an attractive source of revenue for you.
Make Your Enclosure Work For You
We're often asked about hiding utility boxes and backflow enclosures. Spending some time thinking through the location of the enclosure certainly helps.
The use of landscaping often does a good job. The right color can also do wonders for aesthetics. If you're choosing a color, try green for your enclosure if it's going to be surrounded by trees and bushes. Now, you can even use a wrap to turn a shiny aluminum enclosure into a nice-looking feature of the property.
Search the web for a wrap company in your city to find out more about this unique and creative way to disguise a backflow enclosure, or check out our backflow enclosure aesthetics guide. Inside you'll find lots of tips and suggestions that will disguise and/or beautify your enclosure.