With increased communication through text and social media, we are all familiar with slang abbreviations. As we SIP (shelter in place) and WFH (work from home) during these crazy pandemic times, we all suffer from FOMO (fear of missing out). But OMG, YOLO so LOL and ROFL often!
Another abbreviation you're probably familiar with is IoT. The "Internet of Things" has been a source of conjecture and speculation since the early 90s. The Internet of Things refers to the ever-growing network of physical objects that feature an IP address for internet connectivity, and the communication that occurs between these objects and other Internet-enabled devices and systems. But as we continue through 2020, over 20 BILLION smart devices and products will be connected via the internet.
Some of the devices near and dear to our hearts, backflow preventers, have recently joined the IoT. Let's take a look at a couple of them and find out why they'll work better in an above-ground backflow enclosure.
Backflow Prevention Goes Next Level
Both Watts and Wilkins backflow preventers now have product offerings that tap into the IoT.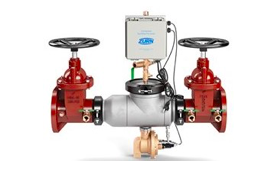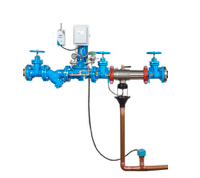 These products allow owners, facility managers, and even testers to have constant monitoring and receive real-time alerts to any changes with the backflow preventers' performance. It's like having a dedicated employee sitting next to your backflow preventer 24 hours a day. This peace of mind is invaluable to anyone responsible for the operation of an RPZ backflow preventer, especially those installed inside a building or mechanical room.
Don't Hamper Your Connection With a Bad Decision
Both Wilkins and Watts offer additional control valves (ACVs) which can be triggered to completely shut off the water supply and prevent a catastrophic flood.
The dedicated monitoring devices require a strong wi-fi or cellular signal at all times to keep the lines of communication open. Backflow preventers installed underground or in a corner mechanical room must consider how strong their signal is in the recesses of the building.
At Safe-T-Cover, we constantly preach about the benefits of above-ground backflow installations. Backflow preventers were originally installed in utility vaults because people used to think it was the safest place for them — protected from the weather and from vandals. We now know this is not the case.
Now that backflow preventers can be constantly monitored over the internet, we have yet another benefit of above-ground installation: better wi-fi and cellular coverage.
Backflow connectivity is just another example of how the backflow preventer industry is adopting change. Change in any industry can be hard, but it's in your best interest to protect potable water supplies, irrigation systems, sprinkler systems, fire hydrants, and water lines by placing backflow preventer installations in backflow enclosures that are above the ground.
Another thing that's been evolving over the last several years is the standards of municipalities and water purveyors for backflow prevention valves on commercial facilities. Our illustrated guide, "Trends in Backflow Prevention" covers key topics including water supply safety, types of backflow, and types of valves. It's a great resource for engineers and executives responsible for commercial water supply and infrastructure.