On first thought, placing a backflow preventer inside a reinforced cage makes a lot of sense. A cage provides visibility for spot inspections and if it's locked and mounted on a slab, it provides a level of security. That line of thinking also extends to economy and value: it's a cage rather than a full enclosure, so it must be cost-effective.
Thank goodness for second thoughts!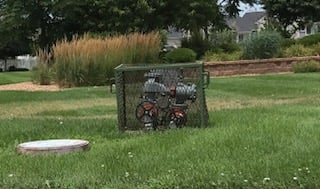 Backflow preventers are built primarily from three different metals: bronze, stainless steel and cast iron. The cage itself may be made of metal that can be turned into valuable scrap. What was thought to be a theft deterrent is, in actuality, a sizable bullseye.
We see stories like this one from Hesperia, California all too often:
A local real estate company is offering a reward after they experienced a recent string of stolen water backflow preventers from one property in Hesperia.
The Hesperia Business Center along Mariposa Road and south of Main Street had its backflow preventer stolen three times in the last three months, according to Operations Manager Michele McCormick with Lee & Associates in Victorville.
…
The first two preventers cost the company $8,000 each to replace, with the last device $13,000 for replacing the stolen preventer and security cage and repairing damage to the concrete pad, which was destroyed in the theft.
Last year, thieves damaged a security cage to steal a water backflow preventer from a warehouse in Victorville, according to facility manager Dale Covington.
"That was an expensive mess to fix," Covington said.
A cage puts your waterworks directly in thieves' crosshairs, and opens your pocketbook to potentially thousands of dollars in loss and damages, from the cage, pad and equipment, to the potential catastrophic charges coming from wasted water.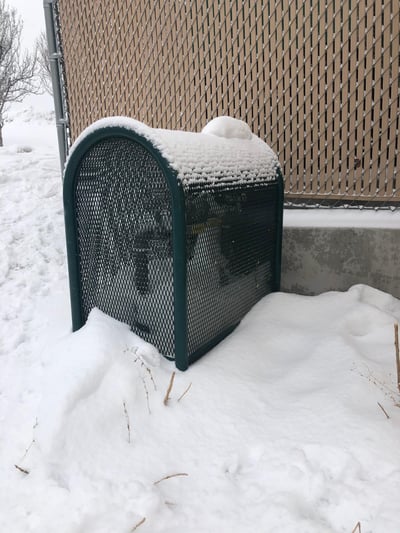 We've even seen instances in isolated areas where a cage exists around the equipment, but the cage has no roof! Consider if that backflow is ripped out and the water line is unattended, the cost in potential charges and the exposure of potentially contaminated water to public water sources is a two-pronged disaster waiting to happen.
Beyond that, with extreme weather impacting the entire country in February – from blizzard warnings in Los Angeles to record-breaking winter heat along the entire Gulf Coast – a cage may as well be no protection at all.
There is no substitute for a marine-grade aluminum enclosure like the ones we offer at Safe-T-Cover, featuring robust security and insulation, with available slab-mounted heat, fans, louvers, sensors, alarms and next-gen connectivity features that allow you peace of mind for security and guaranteed performance.
To discuss your waterworks needs, from available, in-stock modular enclosures to custom-designed, custom-built solutions for nearly any utility use case, contact our team today by clicking the schedule now button below.