A pump cover is a great way to protect your pump equipment from the elements. It will also keep vandals from your equipment and can even help with noise reduction. But there may be certain "style" enclosures that are a better fit for applications like small well head pumps or booster pump packages.
For smaller pump packages, there are a few customer concerns:
Keeping the footprint as small as possible
Providing all the necessary protection from vandalism and weather
Allowing easy access to equipment for those who are responsible for maintaining it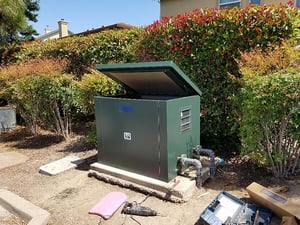 Larger, more traditional enclosures are rectangular in shape, house larger pieces of equipment and can take up a lot of space. The good news is, there are smaller, more compact enclosure options in the marketplace.
At Safe-T-Cover, we call these smaller compact covers our SN and LU styles. Both styles come insulated with Polyiso insulation in the roof and walls. They have multiple pad-lockable and removable access panels and will either have a hinged or lift-up roof which is ideal for maintaining and replacing equipment when needed. Piping penetrations can be factory cut; however, we recommend piping penetrations be cut on-site by the installing contractor. Ventilation systems in the form of a louver and forced fan/louver combination can also be factory-installed to keep equipment cool and running properly during the warmer months.
Finally, there are multiple colors available for those situations when there's a need for the enclosure to blend in with its surroundings. Safe-T-Cover offers Sierra Tan, Slate Grey and Hartford Green at no additional cost for our standard models. Additional colors are available for a nominal fee.
The enclosures are secured to a concrete pad using the included mounting brackets and hardware kits. The only tools the installing contractor will need to mount the enclosure to the slab is a hammer and drill!
Please watch our short video below that highlights some of these key features. Reach out with any questions by contacting us.