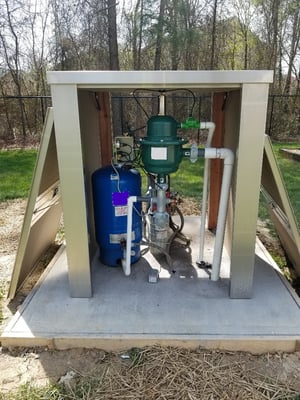 Should I use a well pump cover? In short, the answer is YES.
Well pumps play a vital role in delivering water from the well to where it is needed. Properly covering expensive well pump equipment with a pump cover or enclosure protects it from the elements, weather and potential vandals. Keeping equipment covered can also help extend its life.
Well Pump Covers Protect From The Elements
Using a well pump cover will protect equipment from weather and the elements, which is probably the most important feature of a well pump cover. Well pumps use sensitive equipment like control boxes, electric motors and pressure switches that don't like to get wet or exposed to the elements. You will want to use a cover that has the strength and integrity to stand up to wind and rain and can handle potential snow loads.
Well Pump Covers Defend Against
Theft & Vandalism
Well pump equipment can also be susceptible to theft and vandalism. It is not uncommon for the well to be located long distances from the home or business. Providing a lockable well pump cover can help deter theft and anyone from tampering with the equipment. If the well pump is located out of sight, a power failure alarm that can call your phone in the case of a power outage might be useful.
Accessibility to equipment is also key. Well pump systems use multiple pieces of equipment that need to be accessible for maintenance and repairs. It is very important that the well pump cover allows for easy access inside the cover for maintaining and swapping out equipment if needed. Having a removable roof on the pump cover is also a good idea.
Choosing The Right Well Pump Cover
Covering your well pump equipment is a must, but choosing the right type of well pump cover is just as important. You will want to choose a pump cover made from materials that will hold up to weather and the elements over time. The well pump cover should also offer protection from someone tampering with the equipment and even keeping out unwanted guests like rodents. Finally, the pump cover should provide easy access to work on equipment and swap items out as needed.
If you'd like to learn more about well pump covers, download our pump cover checklist. You can use it to decide the dimensions of your pump enclosure. Or you can reach out to me directly. My email is chris@safe-t-cover.com. We are happy to help you design the best pump cover for your project.