We love seeing our work out in the wild — though we can't say that we like the wild in our work – and in this edition of From the Field, we're focusing on enclosure functionality and adaptability.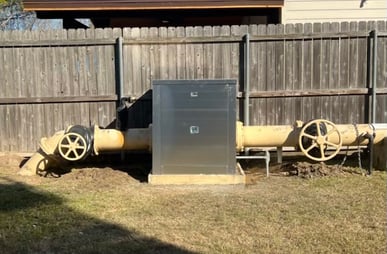 Here's one of our enclosures, adapted for pass-through capability. Our marine-grade, ASSE 1060-certified aluminum enclosures work well to protect sensitive equipment like control panels from being improperly accessed. What's more our designs are entirely retro-fit capable, which is important in an instance like this, because…
Even the southern-most climates are not immune to freezes or occasional severe winter weather. The 'Big Freeze' in Texas and recent freezes in Central and South Florida both demonstrated how important it is to secure utility infrastructure against the most extreme weather.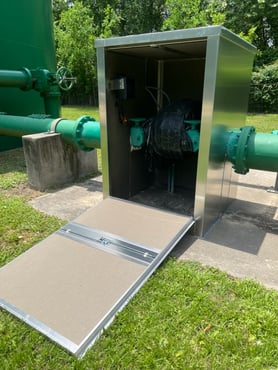 Additionally, we at Safe-T-Cover always recommend and provide templates for pipe patches, to fully enclose openings made for pass-through functionality. Our recent post on the topic and walkthrough video show you how easy creating a penetration patch with our same top-quality aluminum can be.
Pictured is a perfect example of a Safe-T-Cover enclosure both protecting the control panel and backups and with proper patching to create a cleaner look and feel that will also keep wildlife looking for a home at bay.
In this instance, the enclosure could also benefit from having a slab-mounted heater for maximum protection against winter weather. All our enclosures are insulated, retro-fit capable and field adaptable, so if the need arises to add protection against harsh winter weather conditions or perhaps add louvers to add ventilation against unrelenting summer heat, our team can create a solution that works with you and your existing enclosure. Or, if there's need to replace a fiberglass enclosure or a cage, our engineers can retro-fit existing valves and pump stations with a freeze-protected enclosure.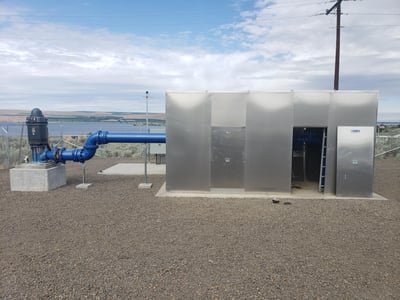 Finally, here is an example from Texas' Big Freeze. While control panels and other equipment are secured within the enclosure, the pump being external to the enclosure isn't entirely unlike having the engine outside the Corvette. Pumps and backflow preventers should be protected above ground and within a weather-resistant enclosure with proper insulation and a heater to keep critical functions operational in any situation.