A well pump cover is great for protection. It's just another example of how aluminum enclosures or can be used for a variety of applications. Safe-T-Cover receives requests to cover vertical pumps, glycol pumps, air conditioning pump systems and many others. And the reasons vary.
In this blog, we will discuss a filtration system that requires a well pump cover for an already existing well.
Finding The Right Well Pump Cover
The filtration system sits on a concrete slab and is made up of a small pressure tank, electronic pressure and safety switches, piping that leads to and from the well, and of course a pump.
As with most pump covers, the customer needed the equipment to be easily accessible for routine maintenance and replacement, if needed.
We enjoy working alongside the customer to provide feedback on the design of the enclosure that will be the best fit for their application. Many times, it turns out that one of our standard enclosure models will perfectly match the application — no customization needed. We are also happy to work closely with the customer on the occasion when a custom enclosure is needed.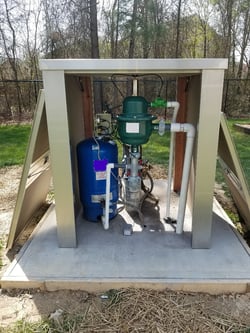 What to Look For When Shopping for a Well Pump Cover
Easy Access Is a Must
For a project like this, you can choose a pump enclosure with two large, removable and pad-lockable access panels (one on the front and one on the back), as well as a hinged roof. The access panels and hinged roof provide the needed access to equipment for maintenance with some additional headroom.
Well Pump Covers And Heat
Heat removal is typically a top priority when we're talking about enclosing pumps. Constantly running pumps generate heat that needs to be removed. High temperatures can damage
electronic control panels and cause equipment to overheat. In that case, we would suggest adding a forced fan and louver to remove it. For this particular case, however, the well pump is on the smaller side and doesn't continually run, hence no concern with heat build-up. This also eliminated the need to install louvers or fans to remove it.
Well Pump Covers For Cold Weather
On the flip side, you will want to consider the part of the country in which the well pump is being installed. Depending on the location, there may be a need to heat the inside of the well pump cover so that equipment continues to run properly during the colder months. In this case, you will need to know the amount of heat that will be required to maintain a reasonable temperature inside the enclosure. The type of heater and its location within the enclosure will also be important. Heaters need to be positioned out of the way of the pump equipment, making it easy to perform routine maintenance.
Well Pumps Need Power
Finally, since many people rely on well pumps to provide their main source of water, adding a power failure and temperature monitor can make a lot of sense. Some monitors come equipped with a strobe light and sound an audible alarm when there is a loss of power or the temperature dips below a certain set point. This type of monitor is ideal for areas where there is a lot of foot traffic and the alarm can be easily heard or noticed. For areas where foot traffic is light, we suggest a monitor that will call or message the person in charge of monitoring the alarm if power is lost or the temperature dips below a certain temperature.
Why Do You Need A Well Pump Cover?
The main reason our customers tell us they need a well pump cover is for protection. Pumps and their accompanying electronic components need protection from rain, flying debris, vandalism and freezing temperatures.
You don't have to leave your well pump exposed. If you'd like to find a well pump cover for your equipment, contact me directly by clicking on the link below.
HOw do you build a well pump cover?

When you're building a well pump cover, it's important to remember that a pump cover can come in many different shapes and sizes. It also has many features that protect your pump in different ways. First, you need to decide what material your pump cover will be made out of. Aluminum and fiberglass are the most common choices.

You'll also need to heat the inside of your pump cover, especially if you're in a colder climate. Keeping pumps warm keeps the fluids inside warm, which makes the pumps more efficient and can also extend their life. You'll also want a ventilation system. High temperatures inside your pump cover can damage electronic control panels and cause equipment to overheat. Be sure to include an access panel for routine maintenance and regular checks.
what is a pump cover used for?
A pump cover is used to protect many different kinds of pumps. Safe-T-Cover receives requests to cover vertical pumps, glycol pumps, air conditioning pump systems and many others. They're typically made out of aluminum or fiberglass.
They're also designed for concealing a number of utility devices found within the residential and commercial landscape including septic, well and irrigation devices. The pump cover not only protects the pump from weather damage and vandals, but it also keeps all of its electronic components safe, too. And you will never have to worry about someone hitting your pump with their car if it's under a pump cover.