Aluminum pump covers are used for a wide variety of applications with water booster pump packages being one of them. Other applications for similar covers include booster pumps, glycol pumps, air conditioning pump systems and many others. In this post, we will discuss a triplex water booster pump that required covering all equipment inside as well as separating the electronic room from the pump room to stay in compliance with local electrical spacing codes.
Why Would You Need To Cover A Pump Skid?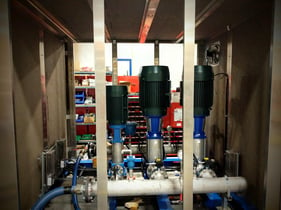 The main reason customers need a cover for pumps is weather protection. In some instances, moving the pumps outside saves valuable space inside the facility for production. Once outside, the pump needs protection from rain, flying debris, vandalism and freezing temperature conditions. When the system goes outside, a pump cover easily provides the needed protection.
Designing Triplex Water Booster Pump Package Covers
Recently, Safe-T-Cover was approached by a customer based in Canada who needed to cover a skid mounted triplex water booster pump package for a golf course. The customer was looking for a cost effective alternate to a complete building that could be delivered as turn-key package to site with minimal site work.
Compliant with Local Electrical Codes
As with most pump covers, the customer needed the cover to be "service friendly" and designed with local electrical spacing codes in mind. Safe-T-Cover's mission was to provide a pump cover that would have multiple removable and pad-lockable access panels which would allow for access to all equipment inside the enclosure. Keeping up with the local electrical spacing codes was also a must. A thermostatically controlled fan and louver climate control system were factory installed to keep the pumps and control panels from overheating. Finally, since the installation was in Canada, a sufficient heat source would need to be provided.
Easy To Work With
This was our first project with this customer, however, after providing some initial education on Safe-T-Cover's capabilities over the phone and a face to face meeting during a popular water industry conference, we were able to design them the enclosure they needed.
In order to meet compliance with local electrical code spacing, a partition was provided to separate the electronic room from the pump room. Three uniquely sized removable and pad-lockable access panels were provided on the front and back sides of the pump cover to keep equipment secure while allowing for the "service friendly" access to both the electronic room and pump room. Four wall mounted heaters were provided to supply sufficient heat to the pump room and electronic room while staying away from other equipment. The roof is removable too.
Another Satisfied Pump Cover Customer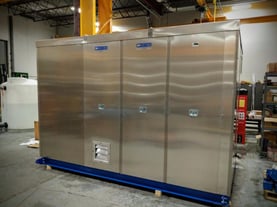 This project was quoted in early September 2019. A purchase order for the triplex water booster pump package cover was received in late October. The enclosure was manufactured and left the shop less than one month after receiving the purchase order.
Prompt service is typical of the Safe-T-Cover team. Custom enclosure quotes are typically provided within a couple of hours and most custom pump covers are shipped within four weeks of receiving the order. Safe-T-Cover is proud to have accomplished our client's needs, and look forward to doing additional business together soon.
Pump covers offer many advantages. If you would like to find out more information about custom pump covers, contact me directly by clicking on the link below.