If you're installing a backflow prevention device, you'll want to make sure it's protected and easy to get to. Providing easy access to backflow preventers makes annual testing a cinch. You'll need room, but you don't want to overspend on an enclosure that's too big.
Unfortunately, backflow prevention is not at the forefront of most design engineers' minds. It's not their fault, as this is a small component of the overall project design. They may not be thinking about finding the most perfectly-sized backflow enclosure, but we are.
Our aim is to make it both simple and painless to design the best backflow prevention system possible. According to many of the designers we've worked with across the country, our backflow cover sizing guide does exactly that. Here is our favorite way you can use it to get exactly what you need.
Backflow Prevention Sizing Guide
The sizing guide is a seven-step calculator that can narrow down all the myriad backflow assembly choices to just one. However, we think the best way to use it is to search for the smallest solution available to you. This means you'll leave some of the options blank.
You can use the backflow preventer sizing guide even if you don't know your device's exact requirements. If you aren't nailed down to a certain valve yet (dual check, RPZ, pressure vacuum breaker), leave some boxes blank to see a variety of aluminum enclosures and find the smallest and best solution.
To make things a little easier on you, we're going to highlight the areas of information you'll be asked to fill in to ensure you get the perfect enclosure for your backflow prevention device. Each option will include your selections, as well as the enclosure's model and list price, with heat included.
Using The Backflow Prevention Sizing Guide
Choose the valve type and pipe size
Choose whether you need an RP, RPDA, DC or DCDA valve. Then, you can select the pipe size designed. This can be the domestic line, a fire line or irrigation lines.
Ignore make and model
Don't be tempted to choose the manufacturer and model — leave those blank. Even if you're used to specifying a certain brand, it is useful to check them all.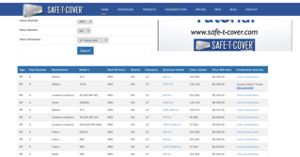 Choose the shutoff
Depending on whether it's a domestic or fire line, you can choose whether the shutoff valves will be NRS or OSY. The new "n-type" backflow preventer solutions turn the shutoff valves into the vertical plane and place the 90-degree turns within the boundaries of the shutoff valves, rather than beyond them. The result is a much more compact assembly.
Select the details
It is most common that you will not need a strainer and the valve clearance is 12 inches. Those will both affect the size of the enclosure, so it's important to find out. The best way to do so is to find your municipality's standard details.
Read The Table
You'll end up with a list that includes a variety of manufacturers and models. A sure way to end up with an exceptionally large backflow preventer enclosure is to stay with the same design from years past. Smaller backflow preventer designs are available, particularly the "n-type," which results in a small footprint for the enclosure.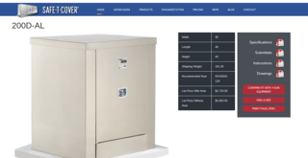 Find the cubic volume
The key to finding the smallest enclosure solution possible is to look at the "cubic volume" column. These vary greatly by model, which is the reason why we left those blank. For instance, for a 6-inch reduced pressure zone backflow assembly with NRS shutoff valves, no strainer, and 12-inch clearance, the cubic volume varies from 57,024 to 201,600.
Explore your options
Now that you have a list of backflow preventer assemblies which will all work for your project, read through the columns to see which backflow preventer enclosure combination will work best. You can view the prices of covers, narrow down which model number is your smallest solution, and view the products themselves. Click the enclosure model links to see a picture of the enclosure and get access to the specs and instructions for that model.
Add the detail to your drawings
You can also see standard details of the backflow device inside the boxes. There is a "plan and elevation" view, so you can actually drop it right into your plans.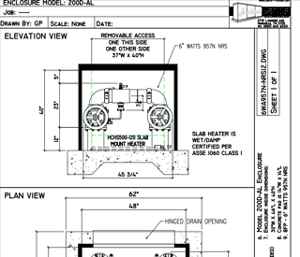 Design the Perfect Backflow Preventer Enclosure
An outdoor, above-ground enclosure is the safest place to put a backflow preventer and to reduce the risk of cross connection and contamination of water systems or drinking water. Whether your backflow preventer is protecting an irrigation system, sprinkler system, fire hydrants or drinking water, it's important to have the right-sized enclosure.
Your enclosure should be designed around your requirements. It should simplify your backflow preventer installation — not complicate it.
If you'd like more information and guidance on how to design your perfect enclosure, watch our video below.