When it comes to irrigation booster pumps, aluminum enclosures are the most common requested solution. Here at Safe-T-Cover, we routinely see requests for water booster pumps, glycol pumps, air conditioning pump systems and more. In a 2020 blog post on irrigation pump covers, we described a custom project for a nationally-known dairy company that needed two large irrigation pump covers.
In this article, we will share another solution we developed for irrigation booster pump application: a West Coast municipality with a harsh oceanwater environment.
WHY sHOULD YOU COVER AN IRRIGATION BOOSTER PUMP?
The main reason our customers need an irrigation booster pump cover -- or an enclosure for any utility or waterworks use case -- is protection. In this case, a pump needs to be shielded from rain, debris, vandalism, wildlife and extreme temperatures.
DESIGNING IRRIGATION BOOSTER PUMP COVERS
A prospective customer based on the West Coast needed to replace two small irrigation booster pump covers situated on a marina with access to the Pacific Ocean. The original enclosures were made from mild steel and had rusted out due to the saltwater environment. As with most pump enclosures, the customer needed the equipment to have easy access for routine maintenance and preferred it to feature a hinged roof. Since these two pump covers were also installed adjacent to a condominium, the client preferred a dark green exterior to help the enclosures blend in with the surrounding landscape.
Complicating the situation further, temperatures in this part of the country can soar well over 100 degrees Fahrenheit, so there was also a need for heat mitigation. Finally, the enclosures had to keep equipment secure and protected from would-be vandals.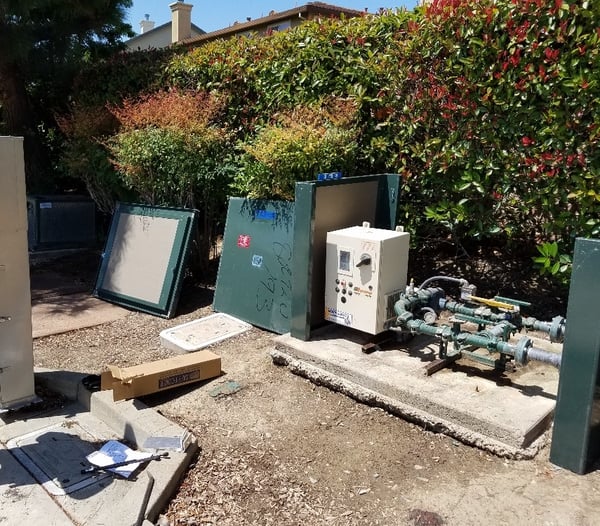 The customer provided several strong renderings and a list of needs and wants that made it easy for our design team to create an enclosure that checked every box. After a few conversations and revisions to our design, we were able to deliver a custom pump enclosure (see below).
Utilizing the existing concrete slab, we mounted the new pump enclosure using Safe-T-Cover-provided mounting brackets. The enclosure exterior is our standard, marine-grade aluminum in Hartford Green, which nicely and discretely blends in with the surroundings. The front access panel boasts a locking handle and is detachable for easy access while also providing superior protection for the pumps. And as requested, we provided the hinged roof to further promote easy maintenance.
You might also notice a louver on the right panel toward the top of the unit. On the opposite side (not shown), there's a forced exhaust fan that draws air through the enclosure and out the other side to maintain a reasonable temperature and pump operation. Finally, there are two piping penetrations (one influent and one effluent) on the bottom right side of the enclosure. The contractor was able to easily make these penetrations on the project site, which is what we typically recommend because sometimes final equipment installation positioning may vary.
ANOTHER SATISFIED CUSTOMER
We first began dialogue with the customer in early February 2019. The purchase order for the irrigation pump cover came through in mid-March. The enclosure was manufactured and left our Nashville facility on April 8, 2019. At Safe-T-Cover, we pride ourselves in quick turnaround times and prompt shipment: even with custom projects, we are usually able to provide an enclosure quote within a day and ship most custom projects within four weeks of order placement.