Aluminum enclosures for irrigation booster pumps are the most common. Safe-T-Cover also sees requests for water booster pumps, glycol pumps, air conditioning pump systems and many others. In our irrigation pump cover blog, we described a custom project for a nationally known dairy company that needed two large irrigation pump covers.
In this blog, we will discuss a recent irrigation booster pump application for a municipality that was much smaller and located in a harsh saltwater environment near the Pacific Ocean.
WHY WOULD YOU NEED TO COVER AN IRRIGATION BOOSTER PUMP?
Our customers have told us the main reason they need an irrigation cover for their pumps is for protection. The pump needs protection from rain, flying debris, vandalism, and freezing temperature conditions.
DESIGNING IRRIGATION Booster PUMP COVERS
We were approached by a customer based on the West Coast that needed to replace two small irrigation booster pump covers located on a marina next to the Pacific Ocean. The original enclosures were made from mild steel and had rusted out because of the harsh saltwater environment. As with most pump enclosures, the customer needed the equipment to be easily accessible for routine maintenance and preferred it have a hinged roof. Since these two pump covers were situated next to a condominium building, they favored a dark green exterior to help them blend in with the surrounding landscape. Temperatures in this part of the country can reach up to 110 degrees Fahrenheit, so the ability to remove heat was also vital. Finally, the enclosures had to keep equipment secure and protected from vandals.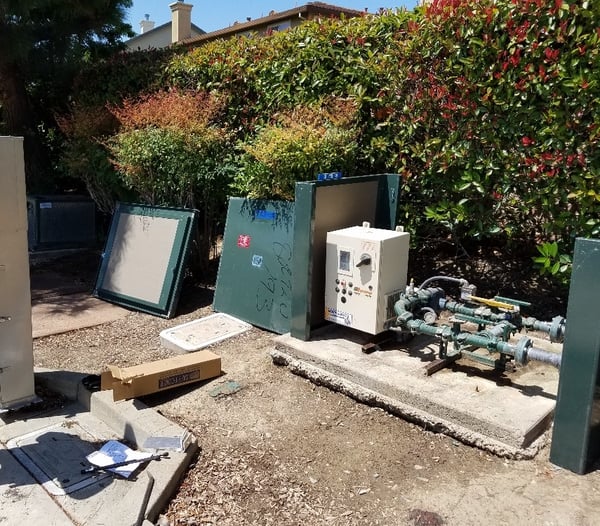 The customer provided us a couple of great drawings and a list of wants and needs that made it easy for us to design an enclosure accordingly. After a few adjustments here and there, we were able to provide this custom pump enclosure (pictured right). We were able to reuse the existing concrete slab and mount the new pump enclosure to it using our provided mounting brackets. The exterior of the enclosure is made from our standard marine-grade aluminum in Hartford Green, which blends in nicely with the surroundings. The front access panel has a lockable handle and is removable in order to promote easy access but also protect the pumps. And as requested, we provided a hinged roof for easy maintenance. You'll also notice a louver placed on the right-side panel toward the top of the unit. On the opposite side, there's a forced exhaust fan (not shown) that pulls air through the enclosure and out the other side to keep the interior at a reasonable temperature. Finally, there are two piping penetrations (one influent and one effluent) located on the bottom right side of the enclosure. The contractor was able to easily make these penetrations on the project site, which is what is typically recommend because sometimes the final placement of equipment can be a bit off.
ANOTHER SATISFIED CUSTOMER
Our first communication with the customer was early-February 2019. We received the purchase order for the irrigation pump cover a few weeks later in the middle of March. The enclosure was manufactured and left our shop on April 8, 2019. Prompt service is typical of the Safe-T-Cover staff, as we are usually able to provide a custom enclosure quote within a day and ship most custom projects within four weeks of receiving the order. We are proud to have accomplished our client's needs and they have recently purchased a second identical irrigation booster pump enclosure.