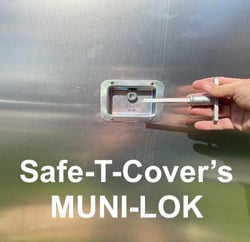 Safe-T-Cover is pleased to introduce the MUNI-LOK, our patented new locking system for enclosure doors. We took the underground vault hatch's traditional locking mechanism and designed it into our enclosure doors. Now, municipalities can specify Safe-T-Cover's locking system and have immediate peace of mind from the moment installation is completed.
MUNI-LOK meets ASSE 1060 standards, making the enclosure lockable to prevent valve theft and deter enclosure vandalism or unwanted visitors. An inherent problem is that municipalities or facility managers must provide the actual lock in order to secure the enclosures, which also means they must keep up with the keys or combinations for hundreds or, in some cases, thousands of locks. No small task!
But the most common occurrence is for an enclosure to not be locked at all. At Safe-T-Cover, we conservatively estimate that over 95% of enclosures are never locked, leaving valuable backflow preventers, control valves, meters and pump systems easily accessible to wildlife, thieves, vandals or the generally curious.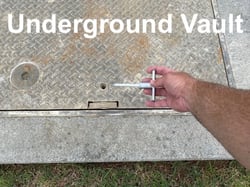 As soon as the MUNI-LOK equipped enclosure door is in place, the enclosure cannot be accessed without the use of the vault key. No more combo locks where no one knows the combination, or padlocks where the key mistakenly went with the guy who retired five years ago. No more curious vagrants or valve thieves accessing an unlocked enclosure door, potentially causing injury or damage to equipment or property.
Specify the Safe-T-Cover MUNI-LOK locking system and know that your protective enclosure is actually protecting your valuable equipment.
MUNI-LOK: Always locked, always protected.