Above-ground backflow preventer installations have very few water jurisdictions and standard details in place. As a result, the design industry doesn't spend the time searching for these details, and designers won't risk creating an outside, above-ground-design if a standard detail is not in place. So, the same design that is always approved gets designed again and again, even though it is not the safest.
This blog is the second in a three-part series on the importance of well-thought-out and complete standard details for backflow prevention assemblies. In Part 1 of our series, we covered how an outdoor, above-ground backflow enclosure can save the customer money and eliminate risk. Today we'll explain the benefits for the water jurisdiction when the backflow assemblies are installed in an above-ground, aluminum enclosure.
What Does a Backflow Preventer Do?
The job of a backflow preventer is extremely important. Ideally, water coming in from the main water supply should flow in only one direction from the water supply. However, if water pressure changes cause water to move in the other direction and back toward the main water supply, this is called backflow. It would be bad for all of us if contaminants from "used" water were able to flow back into our clean water supply. A backflow preventer valve is required in all commercial buildings to protect our water supply and stop this from happening.
Confined Spaces Are Dangerous Places
The utility vault has been an accepted design practice for the backflow preventer installation for decades. It is also the most dangerous because it's a confined space.
There are a number of deaths within confined spaces like the vaults housing backflow preventer installations. According to data collected by the U.S. Department of Labor:
Fatal occupational injuries involving confined spaces rose 15% in 2017
There is an average of 92 fatal accidents in confined spaces each year
780 serious injuries are reported annually in confined spaces
This is an unnecessary liability for a water jurisdiction. A backflow preventer installation in an above-ground enclosure eliminates the risk. Ask anyone who has ever tested a backflow prevention device. They will tell you 100% of the time they prefer to work above ground.
In fact, for safety reasons, the Las Vegas Valley Water District is in the process of removing all backflow assemblies from vaults. They also favor reduced pressure backflow preventers for the extra protection they provide.
Above-Ground Backflow Enclosures Eliminate Cross-Connection Risk
Another reason backflow preventer installations are better above ground is that they eliminate the cross-connection risk. Water jurisdictions are responsible for developing and administering a comprehensive cross-connection control program. This safeguards potable water for the public by requiring the installation of a backflow preventer in three places:
Domestic water lines
Fire lines
Irrigation systems
This is done to prevent water that's passing through the meter from returning to the distribution system, or a cross connection.
But installing your backflow preventer underground increases the chance for a cross connection because underground vaults often flood. When a vault fills with water, it takes a very long time for the water to evaporate. This can keep your backflow preventer submerged in dirty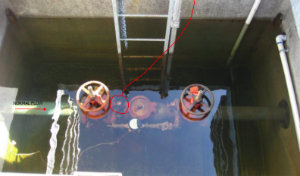 runoff water for months. And many of the backflow prevention assembly testers and water jurisdictions we've talked to say when they open the vault lid there is some level of water inside, and oftentimes the backflow device is completely underwater.
Above-Ground Backflow Preventer Installations Are Easier to Test
When the backflow device is underwater, the check valves are also under water. This is a problem because water jurisdictions are required to test backflow prevention assemblies annually. This is an important step in maintaining clean drinking water.
Backflow prevention assembly testers always tell us they prefer to work in an above ground aluminum enclosure because:
Testing in a vault is much more dangerous and time-consuming
The quality of the test in a vault is less predictable
Vault tests require more manpower and more expense for the water jurisdiction in the long run.
If the objective is to develop and implement cross connection control programs to safeguard public drinking water systems, why does the industry continue to allow this design practice?
How to Install a Backflow Preventer
When getting ready to install your backflow preventer, the first thing you want to do is touch base with your local water jurisdiction. If you are a business, you will want to get a copy of the specifications for the job and ensure you follow them exactly as presented. From there, you will want to make a determination if you will be installing at a low- or high-hazard level. This step will help you determine if you will be using a DC or RPZ backflow preventer. After these steps are completed, you will then want to identify a licensed plumber who can help you with installation.
Design Your Next Backflow Preventer Installation Above Ground
If the objective is to develop and implement cross connection control programs to safeguard public drinking water systems, why does the industry continue to allow this design practice?
We recognize change is hard. But the best practice for the location of the backflow prevention assembly is outside the building, above ground, and in an ASSE 1060 enclosure. Although there are many cities supporting the need for above ground standard details, it's not nearly enough.
Safe-T-Cover helps water jurisdictions improve and create a comprehensive set of standard details for above-ground enclosures every day. Contact us if we can help you with yours.
You can also check out our guide: "Trends in Backflow Preventer Installation." Inside you'll find the latest trends about reduced pressure backflow preventers.