A pump cover is a great way to protect your pump from the elements. It will also keep vandals from your equipment and can even help with noise reduction. If you're considering a cover or enclosure for your pump, we're here to help. Here are five simple steps to design and order a pump cover.
Step 1: Reach out to STC as early as possible in planning process.
There are a few ways of reaching out to STC in order to design the best pump cover for your project. You can go to our website and download the Pump Cover Checklist, fill out the information and then send it to Chris Nickoloff, our pump cover specialist. You can also reach out to any of our team members directly by calling 800-245-6333. Someone from our team will always be available to take your call. Finally, you can reach out to us using our online chat service during our office hours of 8AM (CST) – 4:30PM (CST). If you happen to reach out to us after those hours, someone will get with you the following business day.
Step 2: Provide any specifications, drawings and dimensions you might have for the project.
The more information you can provide us the better. We have seen many different variations of pumps systems and usually have a good idea about where the pump cover design is headed, however, since each project is a little different, having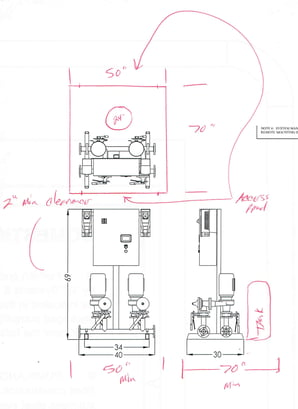 accurate dimensions and drawings is very helpful in providing the best recommendation. However, we will gladly take a hand sketch if that's all that you have!! Also, don't forget to let us know what the pumps will be pushing. This is very important since some fluids may be corrosive to some of the materials used in the manufacturing of our enclosures and may require going in a different direction.
Step 3: Include add-ons like louvers, forced fans, lighting, color, penetrations, and heaters
While the pump cover itself does a good job of protecting pump equipment from the elements and vandals, most pump cover applications require additional items like ventilation, heaters and pipe penetrations to keep them in good working order. Please be sure to include any items you think would be important or unique to your project.
Step 4: Review STC recommendations
This step is particularly important since it provides an opportunity for both STC and the customer to confirm the details of the project before going to production. Doors may need to be shifted, dimensions may need to be updated and piping penetrations may need to be added. This is the time to work out those details.
Step 5: Send purchase order and approved sign off form and drawing (custom pump covers only)
We will not be able to begin production or ship a pump cover unless we receive a purchase order. For our custom pump covers we will also need to have a sign off form and drawing returned to us before we will begin production. These two pieces of information will insure that we are building the correct pump cover to meet the exact needs of our customers.
If you'd like to learn more about our pump covers, download our pump cover checklist. You can use it to determine the dimensions of your pump enclosure. Or you can reach out to me directly. My email is chris@safe-t-cover.com. We are happy to help you design the best pump cover for your project.