Dateline: Nashville, TN
For immediate release
Published release: http://www.onlineprnews.com/news/676716-1459185675-trends-in-backflow-prevention-valve-selection-and-location-new-engineering-guide.html
Safe-T-Cover announces the release of a new resource for engineers and executives responsible for commercial water supply and infrastructure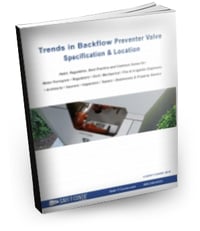 It's been happening under our noses, or actually under our feet, but hasn't been widely discussed. Over the last several years municipalities and water purveyors have been evolving their standards for backflow prevention valves on commercial facilities.
The evolving guidelines are increasingly conservative - assigning higher risk profiles to applications and requiring reduced pressure zone (RPZ) type backflow prevention assemblies (BPA) for more applications.
There are several contributing factors, including:
Increased awareness of backflow situations through AMI data

Growing attention to conservation and environmental concerns

Awareness regarding potential cross connection risks with traditional double check assembly (DCA) type BPAs
And as attention focuses on the type of BPA that raises secondary questions regarding the optimal location. Water purveyors, civil engineers, building owners, contractors, fire departments, mechanical engineers and insurance underwriters are all increasingly attentive to the location of valves.
But the body of "best practice" knowledge has mostly just been passed anecdotally within water districts. At Safe-T-Cover we hear snippets from districts all over the country, and we realized these were wide scale trends. So we undertook to create a resource which would help anyone in the commercial plumbing and waterworks communities find a consolidated overview of these trends in a single guide.
"We're thrilled to release our new guide" says Craig Carmon, president of Safe-T-Cover. "We've literally spent more than three years researching these trends nationwide. We've collected input from regulators, purveyors, inspectors, civil and mechanical engineers, attorneys, underwriters, contractors and more. This is the first consolidated reference we're aware of regarding these trends in backflow prevention assembly selection and location."
The 15 page illustrated guide covers key topics including:
Water supply safety

Types of backflow

Types of valves

Approaches to backflow management

Design risks

Use cases

Regulations and guidelines

Common installation locations

Trends

Liability and risk considerations
"The default location used to be a mechanical room or vault" adds Carmon. "But there's awareness growing that those locations are often poorly suited as the valve selection evolves. Today's valve specifications increasingly require above grade exterior placement rather than in vaults which often flood, or mechanical rooms where the RPZ drain requirements are simply impractical."
This guide is designed for anybody who's specifying, buying, testing or relying on a commercial supply backflow prevention valve. It takes the reader through the changes, background rationale and factors, and the implications to their existing and future projects.
Randy Holland, Safe-T-Cover's expert resource for water authorities and the civil & plumbing engineering community adds "I speak almost weekly with engineering teams at water districts and consulting firms. I'm amazed that as common as these trends are, there's been no common resource. I'm really excited to bring this guide to the community. Between this BPA trends handbook and our program to help water districts create standard design details, we're taking the lead in empowering the professionals that are entrusted with water conservation and safety."
The BPA selection and location engineering resource guide is available for free download here. Water districts, engineers and others interested distributing this guide to their teams should contact Craig Carmon to discuss options.
About Safe-T-Cover: Safe-T-Cover helps engineers and municipalities protect important industrial equipment and water infrastructure. We're engineers by training and temperament and we come to work each day to help engineers create the ideal solution to their protection requirements. In addition to helping water purveyors develop standard details to simplify implementation of new approaches, our custom orientation, and modular system, mean that we are able to provide pricing, drawings and specs on custom enclosures within a couple days. And by helping you design the perfect enclosure for your requirements, we'll help you save big over time.