Here is an example of a catastrophic flood caused by an RPZ dumping water. Remember, this is exactly what it was designed to do. This flood in the images to the right occurred in a hospital mechanical room causing over $1M in damage. You are looking at 2 sides of one wall. On the left, we see that the sudden water flow and volume moved the wall into the next room (right photo), which happened to be a telephone and low-voltage wiring room.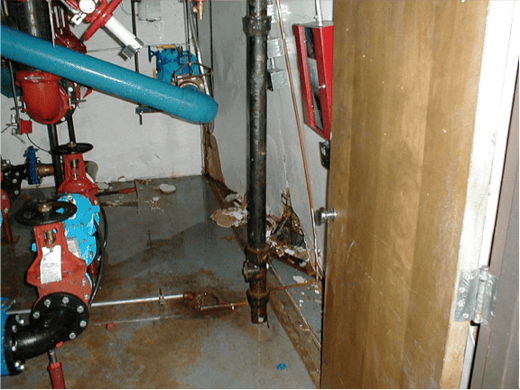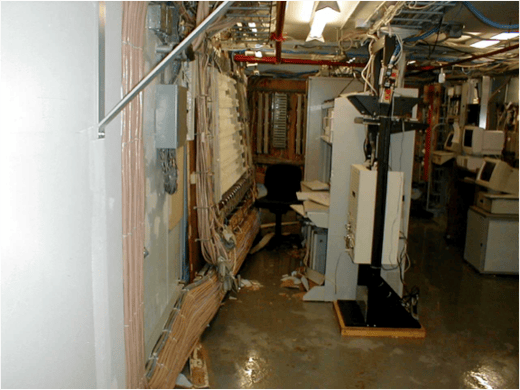 The insurer sought recovery from all the risk holders including the engineer, architect, contractor, subcontractor, and even the most recent recorded tester; While the details of who paid what were not made public, we do know that the property insurer was made whole by one or more of the listed defendants.
This flood risk is still not common knowledge, but it really should be. Backflow preventer manufacturers also make a flood control valve that is designed to be used in conjunction with reduced pressure zone devices. We've looked into what it does and wrote about the Watts version of the flood control valve.
Additionally, backflow manufacturers have made the relief valve discharge rates available to the public for all their RPZ models and sizes. Backflow manufacturers are making an effort to inform and prepare designers and property owners about the amount of water a relief valve can discharge. In turn, water district managers need to develop backflow preventer details with outdoor RPZs. It's then up to engineers to design the backflow prevention solution the best way they can.
Some try to do this using drains, sinks, or spouts. It's the most common way designers plan for this water discharge. The problem is that the drains are just too small to evacuate as much water as is necessary, especially for the larger devices. In order to properly dispel all that water, you'd need either many drains, or very large ones. This comes with it's own problems - cost. A member of the Chicago ASPE Chapter, David DeBord, said in an article in 2013 that "The floor drain capacity required for RPZs 3" diameter and larger are likely to be cost-prohibitive due to necessary pipe diameter and fall rates." You can read the full article here.
NO REASON TO TAKE THESE RISKS
If you are an architect or design engineer, your client, the owner is important to you. You want nothing more than your project to be a success and the owner to benefit from your good decision making. But based on this overwhelming amount of evidence, why should you take the risk of installing the RPZ inside the building? There's nothing to gain and everything to lose. On your next project, will you stay with the status quo for the RPZ backflow device design, or will you make a decision in the best interest of your client and move it outside? We'd like to hear what you think.