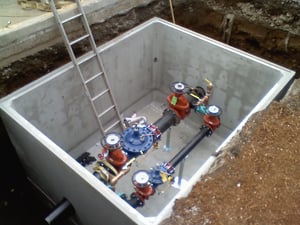 Most city municipalities have the mindset that putting backflow preventers in utility vaults is a best practice. However, the reality is that backflow preventers in vaults can be a confined space safety hazard when they're being serviced, which can be both dangerous and expensive. Yet despite the dangers, they continue to be installed in vaults.
The "vault mentality" substantially increases the size of the backflow cover. The same thinking regarding clearances needed in the vault is applied to the clearances needed for the backflow cover. Access panels on the backflow cover provide clear access to the backflow assembly for maintenance and testing. The clearances needed for a vault installation are not needed for a backflow cover installation. Changing this "vault mentality" can save a few thousand dollars on the cost of the enclosure.
Three new initiatives should help bring this problem to the forefront and prevent future accidents and financial waste.
Gwinnett County Georgia

Water Tower Project. The county water commission is partnering with dozens of research groups, associations and more, including Safe-T-Cover, to test alternative filter systems and other systems. It will provide design and learning opportunities to test backflow device implementation for civil engineers, training on the latest backflow methods to ensure the best installation scenarios to contractors, and training opportunities for sales representatives to learn the latest backflow equipment and technology to provide their customers. We are donating several enclosures to the project's three main test sites.
Backflow Protection Regulations

in President Biden's Infrastructure Bill

. $50 billion has been allocated to water infrastructure, and $55 billion has been allocated to funding for clean drinking water. This will include replacing lead pipes and service lines around the country. The bill aims to improve water system upgrades in an effort to clean up our water sources and make them safer as the result of the Flint, MI, water crisis.

Safe-T-Cover's Own

Think Outside The Vault Initiative. We launched an educational effort to inform municipalities that there's a safer, more cost-effective way to address backflow preventer installation. We highly recommend installing them outside and above ground in a backflow enclosure. Also, Safe-T-Cover engineers have written and designed numerous standard details and specifications that would increase the cost-effectiveness of future water industry projects.
The fact is that installing backflow preventers and meters in utility vaults is an unnecessary liability for water jurisdictions and civil engineers, so we're encouraging a bigger push to install them above ground in a backflow enclosure. It's much safer and more cost-effective.