The most critical part of a backflow enclosure is the roof. Since hot air rises, most of it will escape through the roof. But if your backflow enclosure has a roof that's insulated with 3" of rigid-board insulation the heat will be trapped and your equipment will stay warm. Why? 3" is more than twice the insulation required for ASSE Standard 1060.
So, let's take a closer look at this critical part of freeze protection and why it is essential to keeping your backflow preventer warm all winter long.
Quality Insulated Backflow Enclosures Have This
We fit our enclosures with 1½" of polyisocyanurate insulation, cut to the exact dimensions of the panel. They're also fitted with 3" of the same type of insulation in the roof.
The insulation is fastened within each panel, as well as the roof panels, which means it will stay in place during the shipping, installation and over time.
Here's an example. A photographer captured this image during the construction of one of our insulated backflow enclosures. You can see how tightly each panel fits into the roof and the sidewalls.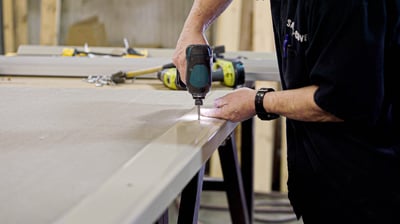 Some backflow enclosure companies insulate their enclosures with spray foam, which can crack, break and pull away from the walls of a backflow enclosure. Manufacturers also have a tough time spraying the foam evenly, but with insulated panels, you have maximum freeze protection all day, every day.
That's because the R-value for polyisocyanurate insulation is the highest for rigid-board insulation at an average of 6.5 per inch. This more than meets the R-8 requirement needed to achieve ASSE 1060 certification. Plus, you're eliminating the risk of air leaks and under-insulated areas.
Insulated Backflow Enclosures Also Need Heat
What good is insulation if you don't have heat? And when it comes to backflow prevention assemblies a slab-mounted heater is your best option—especially if the roof of your backflow enclosure is insulated.
A slab-mounted heater is installed on the floor of your enclosure. It not only provides heat to the enclosure, but it also warms the riser pipes 16 inches beneath the slab as well. Safe-T-Cover's patented slab-mounted heaters meet all ASSE 1060 requirements. They'll maintain an interior temperature of 40 degrees— even with an outside temperature as low as negative 30 degrees.
Here's an image of one of our heaters being installed. You can see it's bolted to the concrete, so it will never move out of place. They pump out as many as 2000 watts and are available in 120V or 240V. You can even fit the enclosure with power and temperature failure alarms as a precaution.
These slab-mounted heaters are also certified for wet/damp conditions. This is necessary for any enclosure that is not watertight.
The heater offered by most other competitors is a wall-mounted heater. If your wall heater is not UL 2021 rated it must be installed high enough (a minimum of 12 inches) on the wall to avoid contact with water.
Since heat rises, the wall-mounted heater guarantees the top of your enclosure will stay warm, but the lower half of your enclosure (where your equipment sits) will not experience maximum freeze protection. A wall-mounted heater will struggle to maintain the correct temperature for the riser pipes and the backflow preventer itself since the thermostat is installed in the heater, which is above the pipes on the wall.
As you can see, a lot goes into keeping your equipment safe and warm all winter long. An insulated backflow enclosure provides you the peace of mind of know you have the freeze protection you need (plus a secure locking mechanism for vandal protection). You'll also eliminate the risk of flooding in your building and the risk of a cross-connection. But quality roof insulation is a critical part to ensure your heat is being trapped and evenly distributed throughout your enclosure.
If you're installing a backflow preventer above ground and outdoors, make sure it's surrounded by the best insulation your money can buy. Contact us today if you'd like to talk more about the way we install our insulation. And if you're interested in getting more information on our slab-mounted heater watch this video to see how it works.