What Do Customers Look for in a Manufacturer?
Most of our standard enclosures are sold through supply houses and all we see is the order without much in the way of project or customer details. However, as a custom enclosure manufacturer, we get to have direct contact with our customers. This allows us to have more open communication with them throughout the design and purchasing process. To make sure Safe-T-Cover is maintaining our high standards, we like to follow up with customers to see how we did. One recent and satisfied customer who purchased two custom enclosures for backflow preventers was kind enough to let us interview him about his experience with industrial enclosures. We wanted to know what he found helpful about the enclosures themselves as well as the manufacturer. Here is what he had to say about the process.
What prompted the need for an enclosure?

The incoming water service at this building didn't have any sort of backflow prevention. We aren't sure why not, but it was built in the early 50s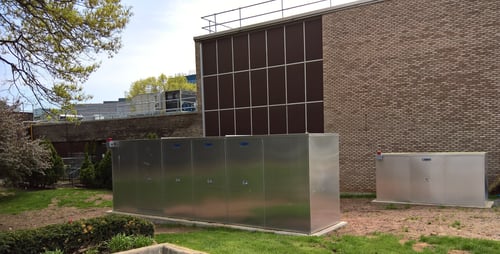 and it either wasn't required or wasn't common practice. We saw the need to add some backflow prevention but realized they would be open to the elements. Here in New Jersey it's cold and we needed some sort of enclosure to maintain the proper temperature throughout the cold winters.
Have you used industrial enclosures before?
This was the first time I've needed an enclosure.
Tell me about how the enclosure meets your needs? What requirements did you have?
First of all we needed them to fit around a 4" reduced pressure backflow preventer for the domestic service and a 10" DCDA with associated meter for a fire service. They also needed to be lockable. The fire service has to be secured with a chain and lock per the fire code here in New Jersey. We were looking for something sturdy with a lockable mechanism on the doors. I found your company through another contractor. He had seen some of your enclosures at another site and recommended them because they are climate controlled, they look nice and they are modular in their installation.
What was the process like from inquiry to delivery?
There were a couple of iterations that were required. I was very impressed with how easy it was. I just told the staff I had a 4" and 10" backflow preventer and gave them the model numbers. Since you have a large library of CAD drawings, your staff was able to give me drawings of these backflow preventers in enclosures already sized properly. There was some communication between me, the water company, and the staff. The water company just required one minor change to the original submittal. It was an addition of a spool piece piping, which ended up making the enclosures a little longer than what was originally planned. That was the only one. Other than that the zoning board loved the design and had no negative comments.
How long did things take? Were staff prompt?
From the time the order was put in until the time they arrived on the site was about a month. They arrived on time. They were ready when you said they would be ready.
What would you say is the most important thing to look for in industrial enclosure manufacturers?
Look for the versatility and the options they might offer. We also bought alarms for our enclosures. It's just good to have options - if you need heat then you can get it. If you want them to be monitored by an alarm, you have that option as well. If in your design process, you're selecting a backflow preventer with XYZ and suddenly the township says, "you know what, we're actually going to require you to have ABC," you should be able to just switch out the autoCAD drawings. If you need to match up the enclosures with your grounds or the look of the building it's good to be able to choose a color.
For the Best Experience, Look for this
This customer stressed the preference for enclosure manufacturers that offer a variety of options. It's important that the enclosures are able to meet the needs of those in different climates from Miami, Florida to St. John's, Newfoundland. If you need locks, acess panels, or alarms, make sure that's something your manufacturer can do. Additionally, the process will be simpler and faster if the manufacturer is versatile. This customer was pleased with how easy it was to change the design when the township rejected the initial drawings. Not all manufacturers have a large collection of CAD drawings, but at the very least, look for a company that will happily and quickly make changes, instead of charging extra or taking days to complete them. Spend some time looking for the right company for you and your equipment. Any enclosure manufacturer with these capabilities will likely provide you with a good experience, you just have to look for them.