Enclosure manufacturers are not only selling quality insulated boxes, we are also selling a concept. The concept that backflow preventers should be installed above ground, outside of buildings, in order to protect people and property. The concept that critical valves and pump stations can be installed outdoors in a perfect working environment in order to maximize valuable indoor space for architectural design, engineered spaces and personal enjoyment. The concept that outdoor, above ground installation is the safest, most efficient and cost effective method to protect our work force and water supply. This concept is the crux of selling insulated enclosures and the following manufacturers have spent many years developing this concept and growing the enclosure market.
Hot Box®
The Devine family started Hot Box® in Jacksonville, Florida in the late 80s. As the backflow industry was quickly growing in the plumbing and building codes, they realized the need for an insulated enclosure that did not have to be manufactured with brick, mortar and roofing materials. Backflow "houses" were common at the time which were extremely expensive and time consuming. They devoted much of their time and resources to writing Hot Box® specifications with engineers and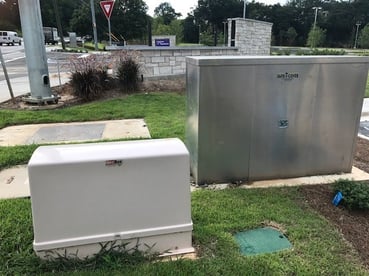 municipalities across the United States. This is how they were able to quickly establish themselves as the "name" of the enclosure industry and is why many reference hot box enclosures rather than heated enclosures. The Devine family spread the above-ground concept and were also instrumental in establishing the ASSE 1060 standards that are still referenced today. Hot Box® is currently owned by Hubbell Incorporated® and they have a wide range of fiberglass and aluminum enclosures that meet the ASSE 1060 standard.
Safe-T-Cover®
Around the same time that Hot Box® began growing the enclosure business in Jacksonville, Fl, another family named the Davenports began making backflow enclosures in Nashville, TN. The company began as Hydrocowl and over the years changed their name to Safe-T-Cover to emphasize the nature of their business. Today Safe-T-Cover still manufacturers their ASSE 1060 enclosures in Nashville and ships their quality products all over the world. Safe-T-Cover emphasizes quality manufacturing, customer service, speedy delivery, stocking inventory, and custom engineered products. We also like to engage the water industry with researched guides, infographics, and other materials to get industry leaders talking about the current and future state of backflow, waterworks, and public health.
G & C Enclosures®
G&C Enclosures® are also manufactured in Nashville, TN. This enclosure manufacturer was one of the first in the industry to meet and stress the specifications of ASSE 1060. They offer a wide variety of aluminum "Water Safe" model enclosures, including one-piece, modular, and roll top models. G&C Enclosures® also specializes in custom sizes to meet any enclosure needs.
---
We've also written an in depth comparison of the different enclosure heaters these manufacturers carry. Read it here.
---
Aquashield Enclosures®
Aquashield was started by Ronnie Cox in Little Rock, AR in the late 90s. Aquashield has a large rep network and sells ASSE 1060 enclosures all across the United States. They specialize in small and large diameter aluminum enclosures, as well as any custom enclosure application. ASSE 1060 standards have always been a priority at Aquashield, and they spend much of their time emphasizing and teaching the above-ground installation concept.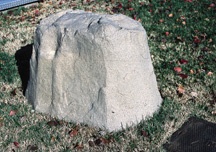 Dekorra Products®
Dekorra Products was started by Russ Dresen and Roy Bailey in Rio, WI in 1997. Dekorra specializes in small diameter fiberglass enclosures as well as decorative artificial rocks. Primarily used in the irrigation and plumbing markets, Dekorra products can be purchased online, at retail markets, and through wholesale distribution. Dekorra has always emphasized the importance of ASSE 1060 standards, and actually molds the ASSE 1060 stamp into their fiberglass bodies.
Great Enclosures Come from Great Manufacturers
All of the manufacturers listed above are quality competitors and stress the importance of excellence, safety, and customer service. The ASSE 1060 standard is at the forefront of all of our efforts and we strive to make superior domestic products that protect your valuable property and personnel. When it comes to teaching and enforcing the concept of above-ground installation, these manufacturers practice what they preach.